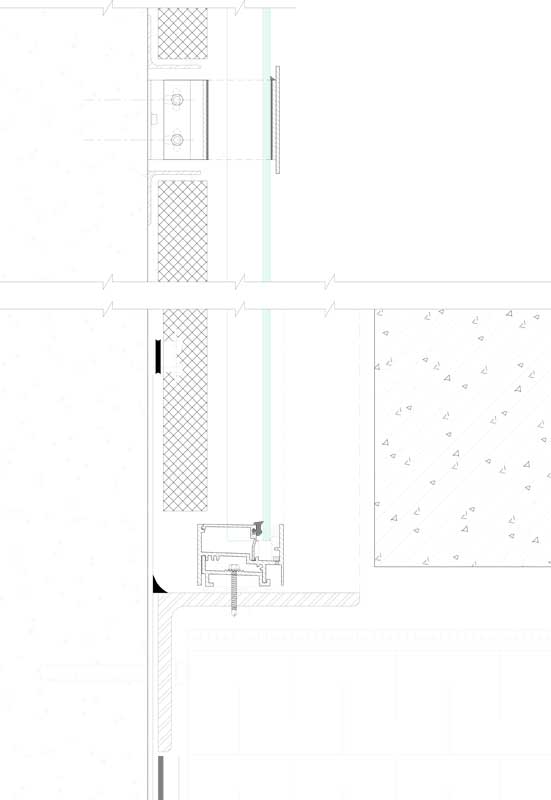 The channel glass walls at the visitor centre's sloped terrace consist of two parallel single-glazed systems, allowing one side of the glass wall to terminate at the terrace slab, while seamlessly bypassing it on the opposite side. The glass channels above the terrace are gradually stepped—a budget-smart design technique creating the appearance of a continuous slope. The step-cuts are captured inside the head of the frame system, creating an elegant continuous line. The same technique is used to follow the grade at the stepped visitor centre exit, which brings visitors to the historic grounds.
Angle-cuts at the bottom of the glass channels are used at the staircase leading to the centre's terrace, to create sleek uninterrupted sightlines. Here, the design employs two channel glass profiles: P26/60/7, featuring a 60-mm (2.3-in.) flange depth typical for exterior applications, and P26/41/6, featuring a narrower 41-mm (1.6-in.) flange. (These descriptors simply reference the dimensions of the glass channels. For example, P26/60/7 stands for approximately 26-cm (10-in.) face width, with 60-mm (2.3-in.) flanges and 7-mm (0.28-in.) glass thickness). Glass channels with the narrower flange, ranging in length from roughly 5 to 1 m (17 to 3.5 ft), are used at the interior-facing walls of the staircase to accommodate the limited available space. Mid-point wind clips reinforce the 41-mm flange channels taller than 2.6 m (8.6 ft).
The walls of channel glass approach 6 m (20 ft) continuous height in the tallest sections. The additional strength required is facilitated by tempered channel glass coupled with strategically positioned mid-point wind clips. The wind clips reduce the glass deflection on the taller channels ranging 4 to 6 m (12.5 to 20 ft) in height. The effect of such a large expanse of light-diffusing, luminous channel glass is that of a billowing sail floating above the grounds of the historic fort.
Green glazing
The channel glass used at the new Fort York Visitor Centre is ecologically sound in many ways. It is formed in an ultra-clean-burning oxygen-fuel-fired furnace, which significantly reduces energy consumption and reduces nitrogen oxide emissions by a factor of five when compared to conventional furnaces. The glass features more than 60 per cent recycled material, including approximately 40 per cent post-consumer content. It is also fully recyclable at the end of its lifecycle.
Additionally, the light-diffusing, non-reflective surface texture of channel glass can greatly reduce bird strikes—a common problem with many traditionally glazed surfaces. Essentially, it allows birds to recognize the glass as a solid barrier rather than a clear opening. ( For more on the conservancy and the critical need for avian-safe glass, see "The Invisible Threat: Creating Bird-friendly Buildings," by Christine Sheppard, PhD, Anne Lewis, FAIA, Bruce Fowle, FAIA, and Guy Maxwell, AIA. The article appeared in the January 2014 issue of Construction Canada. Visit www.constructioncanada.net/the-invisible-threat-creating-bird-friendly-buildings).

Conclusion
Since its opening, the Fort York Visitor Centre has become a focal point for the district. It has helped reinvigorate the area and establish a contemporary cultural landmark in the heart of downtown Toronto. By successfully complementing the historically significant site it occupies and minimizing its own physical footprint, the centre allows a distinguished part of Canada's rich history to come alive for generations of visitors.
TECHNICAL DESIGN NOTES FOR FORT YORK'S CHANNEL GLASS RAINSCREEN
– Design wind load: 1.27 kPa (27 psf)
– Glass deflection: limited to L/100
– Framing member deflection: limited to L/175 or max 20 mm (0.75 in.)
– Vertical glass span: approximately 6 to 1 m (20 to 3 ft)
– Horizontal glass span: approximately 108.5 m (356 ft)
– Glass layout: single-glazed; vertical walls and glass-to-glass corners
– Glass-to-glass corners radii: 20, 41, 90, 131, and 160 degrees
– Frame profile dimensions (approximately): depth = 82.5 mm (3.25 in.); head and sill height = 58.5 mm (2.3 in.); stock length = 6.5 m (21 ft)—longer spans were created by splicing extrusions
– Glass profile dimensions (approximately): face width = 260 mm
(10.3 in.); height range = 6 to 1 m (20 to 3 ft); two various depths (flanges) = 60 mm (2.4 in.) and 41 mm (1.6 in.); thickness = 7 mm
(0.28 in.)
– Glass weight: 22 kg/m2 (4.5 lb/sf)
– Glass safety: factory-tempered, Safety Glazing Certification Council (SGCC)-certified safety channel glass
– Glass sealant: standard silicone (the framing system does not require the use of structural silicone for typical installations).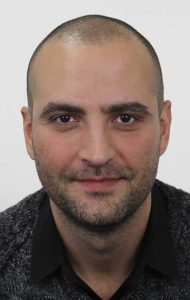 Said Elieh is the director of technical design for Bendheim Wall Systems, and the manager for its decorative glass rainscreens division. He has more than 15 years of construction industry experience, and holds a master's of architecture degree. Elieh can be reached via e-mail at selieh@bendheim.com.

Control the content you see on ConstructionCanada.net!
Learn More.