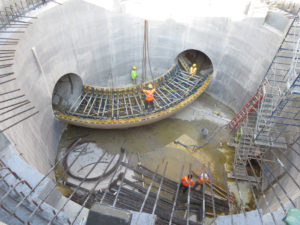 The Greater Toronto Area (GTA) suburbs of Markham and Pickering represent a growing area. The cities, respectively to the north and east of Toronto, are designated to receive more development and population in the coming years, straining the current sanitary sewer resources. To handle the upcoming growth, a trunk sewer was contracted to accommodate the additional flows.
The goal of this sewer project is to carry 100 per cent of the 2036 design sanitary sewer flows projected from future growth. The new Southeast Collector Trunk Sewer is approximately 14 km (8 mi) in length. The sewer is to be constructed at depths of 5 to 40 m (16 to 131 ft) below the ground surface.
A major challenge of this project was to ensure the pipeline stayed within the Newmarket Till soil stratum, which is a more conducive material for tunnel construction. To do so, a substantial drop in elevation of the pipeline over its length was needed. The use of an earth pressure balance machine as a tunnel-boring machine allowed for different modes of operation to accommodate the changing soil conditions.
A customized benching formwork was employed for 13 ventilation shafts in total, ranging between 10- and 60-m (32- to 196-ft) depths. The panels allowed the contractor Strabag to pour the U-shaped benching at the bottom of each ventilation shaft connecting the newly drilled tunnel openings with each other.
The panels were part of a large-area formwork system that is designed to accomplish diverse types of task. The shape, size, tie-hole pattern, and form-facing of the elements can be adapted to suit any requirement. The panels included wooden gussets and custom splices. Every single formwork element was hand-built and assembled to the highest possible standards in the industry.
The City of Markham also required a form liner to be installed on every formwork element prior to a concrete pour. Therefore, the panels were epoxy-coated during the assembly process and shipped to the site ready to use.