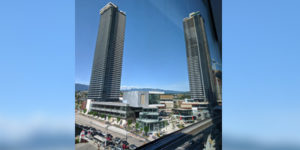 Upgrades for Burnaby, British Columbia's Brentwood SkyTrain Station will soon come around the bend, as several tiers of government have now dedicated funding to the project.
The Brentwood Town Centre Station is part of TransLink's Millennium Line and is located in an area of significant urban development. Upgrades will improve station accessibility at the south entrance and enhance customer connections to bus service, nearby amenities, and residential developments. Project works include, among others: the construction of a street-level elevator to the south entrance, improving access for commuters; the replacement of the existing south stationhouse stairs from ground level to mezzanine level, enhancing ambience and safety; and the installation of an operator washroom to streamline bus and operator transitions.
This project is part of a $32.6 million initiative to upgrade the station as a whole. The upgrades to the south entrance was a total of $8.1 million. The Government of Canada is contributing $3.24 million through the Public Transit Infrastructure Stream of the Investing in Canada Infrastructure Program, and TransLink is investing $4.86 million. Construction for the new upgrades will run parallel to those previously announced, with both scheduled to begin in late March and expected to finish in early 2024.