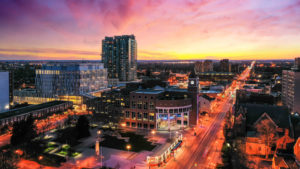 The City of Brampton has awarded the Centre for Innovation (CFI) project design to Diamond Schmitt, a Canadian architecture firm providing innovative designs for cultural, academic, and civic spaces globally.
Some of Diamond Schmitt's most well-known projects include the Senate of Canada building; Emily Carr University of Art and Design in Vancouver; the National Arts Centre in Ottawa; and Toronto's Four Seasons Centre for the Performing Arts and The Globe and Mail Centre. Diamond Schmitt is also designing the new Ottawa Public Library and Library and Archives Canada (OPL-LAC) Joint Facility.
The CFI will be located centrally in Brampton's downtown core to support current and future post-secondary institutions in the city including Algoma University, Ryerson University, and the University of Guelph-Humber. It will play an integral role in connecting post-secondary institutions with local businesses and start-ups and help provide Brampton's workforce with skilled jobs of the future.
The CFI will provide significant stimulus at the heart of the city's downtown. The design of the facility aims to provide a positive and engaging user experience within the building and through its streetscape and urban design; it will serve all Brampton residents as well as university students.
As part of Brampton's growing innovation district, the Centre for Innovation will be a collaborative space with a new central library providing opportunities for digital creation and programming, performance and audio recording, assistive technologies for various abilities, and culture days.
The library will provide flexible office spaces for residents and community partners. The CFI will be a gateway and landmark for train passengers entering or departing the city from the downtown Brampton GO station.
The project will also provide opportunities for elementary and secondary, students to engage, innovate, and collaborate with one another as well as with residents, the business community, and industry in a collaborative setting that promotes experiential learning.
Construction is anticipated to begin in 2023.