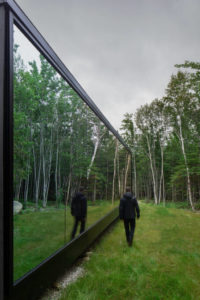 Reflection is the work of Québec-based Bourgeois Lechasseur architects, who have developed an approach to get-away rentals.
They first experimented with the Charlevoix Domes, followed by the Cabin A. Reflection, their latest endeavour, is a set of two contemporary cabins in the woods.
The identical units were built on a flat piece of land close to one of Québec's most popular ski resorts, Massif Petite-Rivière-Saint-François. The challenge for the architects was to engage guests with nature, rather than dazzle them with the overwhelming views nearby. Key to the design was a focus on creating accommodations that would almost disappear among the trees.
The shared arrival and parking area is accessible through an unpaved road, connected to local hiking trails. To ensure maximum privacy for guests, the two cabins were built back-to-back, 50-m (164-ft) from each other, one facing east and the other west. Darkened wooden slats clad the other three façades.
The move is typical of Bourgeois Lechasseur architects, who enjoy blurring the lines between exteriors and interiors. The dark wood cladding used outside appears to carry though the interior along the entire length of the living area, while the clear pine ceiling used throughout the units is replicated outside.