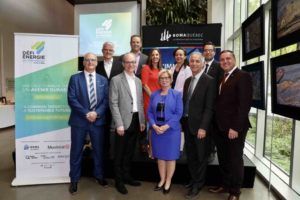 Building Owners and Managers Association (BOMA) Québec has launched the Building Energy Challenge (BEC). This friendly competition is aimed at reducing the energy consumption and greenhouse gas (GHG) emissions in Québec through collaboration, knowledge sharing, education, and innovation. The BEC is intended for owners, commercial property managers, and tenants looking to implement responsible management practices to improve their energy performance in a sustainable manner.
The BEC builds on successful challenges underway in other cities, such as BOMA Toronto's and Manitoba's RACE 2 REDUCE. The BOMA Québec project takes into account the Québec context and the specific objectives of the Québec government's 2030 Energy Policy, which aims to improve energy efficiency by 15 per cent and reduce fossil fuel consumption by 40 per cent.
The BEC is targeting a 10 per cent reduction in energy consumption over four years and aims to include some 100 buildings in the first year.
Several key players in the commercial real estate industry, including Ivanhoé Cambridge, the Société québécoise des infrastructures, GWL Realty Advisors, Bentall Kennedy (Canada), and La Capitale Insurance and financial services have already committed to participating in the BEC.
Spread over four years, the BEC is free and open to all commercial, institutional, and multiresidential buildings in Québec, whether or not they are members of BOMA Québec. Participants will have to enter their energy data online confidentially on the free Energy Star Portfolio Manager (ESPM) platform.
Three levels of competitions will be repeated over the years.