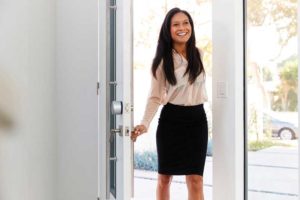 By Eric Blaeser
Bacteria are on surfaces all around us—from phones and door handles to appliances and even clothes—and their colonization results in stains and odours and, ultimately, product deterioration. Maintaining good cleanliness is, therefore, paramount to minimizing the growth of these microbes and their subsequent effects. However, it can be hard to keep up with the numerous daily encounters one has with potentially contaminated surfaces, comprising countless materials. Therefore, many companies now treat their products with antimicrobial technologies during manufacturing to help protect them from the growth of damaging bacteria. This article delves into the science behind one such powdered chemistry that is being used to treat door hardware, resulting in many layers of durable antimicrobial activity.
The heightened public awareness of bacteria, and the extra measures many people take to improve their personal and household cleanliness, are two small positives to emerge from the COVID-19 pandemic. Children learn at an early age to wash their hands and maintain a clean living space, and the last two years have been a stark reminder of these childhood lessons. However, no matter how rigorous the cleaning method, bacteria will continue to exist and flourish, especially on objects that evade routine scrubbing, such as handles and door hardware. These objects are frequently touched—the door handle especially, being the first point of contact when returning home—yet they are likely to be cleaned less often, undoubtedly leading to the exponential growth of a whole host of bacteria if left untreated.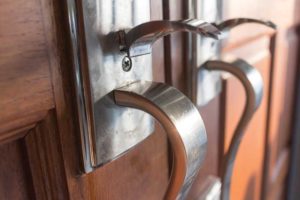 In a recent survey, Canadians cited door hardware as one of the top areas of concern for cleanliness protocols. While routine cleaning activities are functional and necessary for homeowners to maintain a suitable and comfortable living environment, perceptions of 'clean' are emotionally driven by positive feelings of confidence, control, and relief.
Additionally, according to a 2020 survey, convenience and saving time when cleaning is high on the list for many Canadians. These results represent a unique opportunity for builders, architects, and construction specifiers to focus on building materials that offer proactive solutions to these concerns while maintaining esthetic and structural integrity. That said, some residential lock manufacturers have tackled this issue head on and introduced a solution that offers continuous product protection and an enhanced level of cleanliness for door hardware.
An age-old antimicrobial solution wrapped in cutting-edge innovation
This versatile solution complements traditional cleaning methods to add lasting product protection, helping to minimize bacterial impact. The efficacy is derived from silver ions. Silver's antimicrobial capacity has been well-known for centuries, and it was historically used in ancient medicine for applications such as wound dressings. The silver ions interact with membrane-related enzymes to prevent the growth and proliferation of bacteria.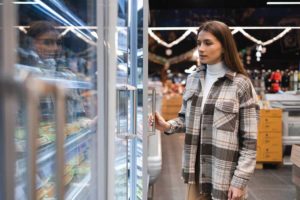 The antimicrobial technology comes as a powdered formulation consisting of silver-glass particles—the active ingredient—embedded into the powder coating during production. A twin-screw extruder melts the resin and combines the silver-glass particles with other components into one compound. Next, it passes through a flaker, and lastly to a grinder to form the final product. This process makes the powder coating incredibly stable and durable, while protecting the silver-glass particles to give it lasting efficacy. The powder coating is then applied with an electrical charge and baked to adhere to the desired product during manufacturing, resulting in a coating with antimicrobial action ensuring ongoing product protection.
A tailored approach to defence
Depending on the application and the environment, the proportion of silver-glass particles will vary, and the formulation is custom made for each purpose. For example, this technology has been applied to grocery store refrigerators, where efficacy against bacteria that live at lower temperatures was needed, and so an increased percentage of the antimicrobial additive was required. Proportions can also vary depending on the finish of the product—matte or glossy, transparent, or opaque, and textured or smooth—or even the colour. However, in most cases, the amount of the antimicrobial component typically falls between 0.35 and 0.5 per cent of the weight of the powder coating, which perfectly balances both efficacy and durability.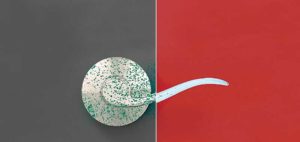 The powder coating becomes an intrinsic part of the hardware. It does not wash off, succumb to rigorous cleaning, or wear away with exposure to environmental conditions. This also means the product does not flake off or disperse into the surroundings like traditional cleaning products, which can expose consumers to harsh chemicals and potentially have wider ecological implications. The technology has been stringently tested in world-class laboratories according to international standards­—including the American Association of Textile Chemists and Colorists (AATCC), ASTM International, the Environmental Protection Agency (EPA), the International Standards Organization (ISO), Japanese Industrial Standards (JIS), and FZ/T­—with non-absorbent, non-porous materials such as door hardware specifically tested by the quantitative method ISO 22196. This evaluates efficacy against Gram-positive and Gram-negative bacteria, and further testing is performed for safety during manufacturing, installation, and use, so consumers can feel reassured by the addition of antimicrobials, for lasting peace of mind.
This solution has also been verified in real-world situations to ensure the coatings provide these benefits while maintaining the esthetics of the hardware. This diligence has provided the confidence for leading residential lock manufacturers to start using antimicrobial technology. They have subsequently developed products that look, feel, and act the same as before, but now have the invisible added benefit of fighting the effects of bacteria before they can get through the door.
Welcoming a heightened era of protection
These cutting-edge products—with enhanced functional benefits for buildings and consumers—are already making a difference in residential locations, meeting the rigorous durability requirements of door hardware while providing an added level of protection for high-touch surfaces. Further, they adhere to the performance standards set out by the Builders Hardware Manufacturers Association (BHMA), which tests for security, durability, and finish. This technology is paving the way for a new era of product durability, where biodegradation of surfaces could soon be a problem of the past, leading to increased consumer confidence and lower long-term costs.
Author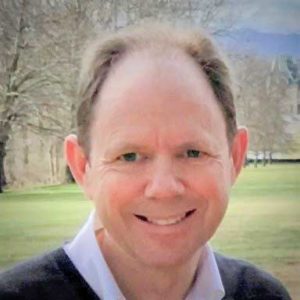 Eric Blaeser is the senior director of business development at Microban International, overseeing all of the company's business activity in North America. Over the last 30 years, he has worked in both a commercial and engineering capacity, in industries such as packaging, commodity chemicals, and fibre production, with category-leading organizations including Celanese, Fiber Industries, and Wellman. Blaeser earned his bachelor's degree in chemical engineering from Georgia Tech, and his master of business administration from Queens College. He also holds two well-regarded U.S. patents. Blaeser's dual expertise in technology and business provides the perfect background for his work at Microban, and their 800-plus partners worldwide.

Control the content you see on ConstructionCanada.net!
Learn More.