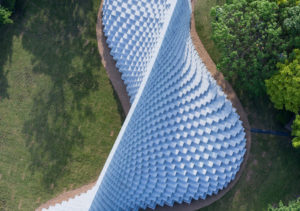 Danish architect Bjarke Ingels' critically acclaimed 2016 Serpentine Pavilion, dubbed the "unzipped wall," has been re-assembled in Toronto, and opened on September 15. The centrepiece of a new exhibit titled "Unzipped," the pavilion will host architectural exhibitions by day and cultural events by night until the end of November.
The temporary pavilion made of 1802 stacked fibreglass boxes welcomed a record number of visitors during its 2016 run in London's Hyde Park (United Kingdom) and was acquired by developer Westbank shortly after.
The "unzipped wall" is a play on one of the most basic elements of architecture: the brick wall. Rather than clay bricks or stone blocks, the wall is constructed from extruded fibreglass frames stacked on top of each other. The wall is "unzipped" to form a cavern within it, originally to house the events of the Pavilion program in London and now, to house an architectural exhibit curated by BIG in Toronto. After reconstruction, the pavilion conforms to its original design and measurements, at 27 m (88.5 ft) long, 12 m (39 ft) wide, and 14 m (46 ft) high.
Toronto marks the beginning of the pavilion's multicity tour before ultimately landing in Vancouver, to find its permanent home beside Westbank's Shaw Tower on the waterfront.
Ingels' design seeks to reconcile aspects commonly perceived as opposites, creating a space that is both free-form and structured; modular yet sculptural. The resulting structure transforms from a straight line into three-dimensional space, creating a dramatic undulating form of stacked rectangular frames made out of glass fibre, said Westbank.