BIG reveals initial look of 'cinematic ziggurat' for Denmark
by sadia_badhon | May 28, 2020 5:43 pm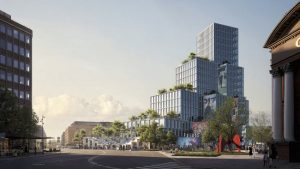 Danish architectural firm Bjarke Ingels Group[2] (BIG) and Nordisk Film Cinemas[3] have presented proposals for Palace on Axeltorv, a 'cinematic ziggurat' in Copenhagen, Denmark.
A ziggurat is in reference to a rectangular stepped tower often found in ancient Mesopotamia. The structure has the form of a terraced compound of successively receding stories or levels.
The initial sketch for the proposal shows the palace building as open and porous with transparent glass sections and light, cubic structures following the curvature of the nearby railway lines. The sketch also contains a cinema with a luxury basement-floor hall and a ground-floor foyer. Additionally, there are 14,300 m2 (153,924 sf) of office space and shops that will activate Axeltorv, a public square in central Copenhagen, during the daytime before the first cinema performances.
A cascade of green terraces on the building, with their many different uses, invites people to varied activities, said Jesper Eising, head of press, corporate communications, and public affairs at Nordisk Film Cinemas.
Work is now underway to find an external investor and builder who would be interested in realizing the project, including renting commercial and retail space, as per Denamark's Union of Architects and Designers.
Endnotes:
[Image]: https://www.constructionspecifier.com/wp-content/uploads/2020/05/Opener-30.jpg
Bjarke Ingels Group: https://big.dk/#projects
Nordisk Film Cinemas: https://www.nordiskfilm.com/
Source URL: https://www.constructioncanada.net/big-reveals-initial-look-of-cinematic-ziggurat-for-denmark/
---