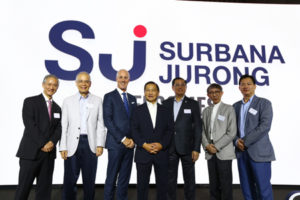 Award-winning architecture firm B+H is partnering with Surbana Jurong, one of Asia's largest urban and infrastructure consulting firms.
This new collaboration aligns B+H with a global company that shares common service, sector, and geographic synergies and will provide it with access to a broad network. In turn, B+H will deepen Surbana Jurong's architecture and design capabilities, supporting its planned transformation into a world-class strategic consulting and design powerhouse.
"This partnership accelerates B+H's continued growth strategy and positions us to compete with some of the most powerful firms in the world," says Bill Nankivell, CEO, B+H. "Continued investments, consolidation, and mergers in our industry are providing platforms for firms to grow, diversify, compete, attract, and retain the best talent. The B+H and Surbana Jurong partnership will allow us to deliver bold and inspiring projects in new geographies and sectors, providing extraordinary opportunities for our people."
This new partnership marks Singapore-based Surbana Jurong's first investment in a North American consulting and design practice.
"Surbana Jurong and B+H believe in shaping spaces, communities, cities, economies, and lives," says Wong Heang Fine, Group CEO of Surbana Jurong. "Both firms are committed to delivering resilient and healthy environments. Together, we will aim to provide integrated, end-to-end, and best-in-class solutions, from real estate and development strategies, to design and consulting services."
B+H will be run as an independent entity by its managing principals, with its head office remaining in Toronto. This fits Surbana Jurong's business, in which specialist groups operate independently in the global marketplace with the flexibility to work separately or collaboratively as needed.