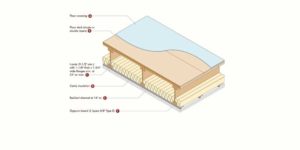 Foam or fibreglass batt insulation can be installed between the sleepers to ensure a warm floor.
The sleepers can be leveled to accommodate cracks and/or unevenness in the existing concrete floor.
The use of sleepers installed with mechanical fasteners eliminates the need for a number of different adhesive systems to accommodate the various materials and surfaces to which they must bond (panel to foam, foam to concrete, panel and sleepers to concrete, etc.).
It is advisable to ensure adequate spaces are maintained between panel ends and edges and between panels and walls. This is especially important for below-grade slabs where excessive moisture is a concern.
Installing WSPs over rigid foam insulation board
The second method is to apply the panel over minimum 25-mm rigid foam insulation board. The advantage of this system is it results in a resilient floor with good insulating properties and uniform stiffness. Square edges of adjacent panels should be backed with plywood splice plates to prevent differential deflection due to concentrated loads at panel edges. Structural panels with performance categories of a least 15/32 (these panels are generally available square-edged, and the minimum thickness for tongue-and-groove panels is normally 19/32) are recommended to distribute concentrated loads and prevent crushing of the foam. A double-layer floor system may be used with square-edge panels, with top and bottom layer joints staggered. This eliminates the necessity to use tongue-and-groove panels or splice plates. As with any floor construction, it is important to achieve proper spacing between the panels.
When a vapour retarder is used beneath the slab, the floor system may be applied with adhesives. Separate adhesive systems might be required to attach the plywood to the foam and the foam to the concrete slab. Care must be used in selecting an adhesive system to ensure the adhesive bonds to the concrete and/or floor panels and not react adversely with the foam. In some regions, WSPs with foam insulation bonded to one side may be available.
Pressure must be applied to the floor system through the use of weights or temporary floor-to-ceiling compression struts and bearing blocks to ensure a good glue bond.
It is recommended to avoid overdriving mechanical fasteners as this can cause localized crushing of the foam or spalling of the concrete floor. Heavy loads in the area of fasteners may cause 'nail popping' if the foam compresses under the applied loads. This can cause squeaks and may damage floorcoverings. A double-layer floor system (plywood underlayment installed over subfloor panels) can be used to minimize 'nail-popping' problems. This also eliminates the need to use tongue-in-groove panels or edge splice plates.
Conclusion
Engineered wood products offer dependable performance and design flexibility in a variety of structural floor systems. Their consistency and uniform performance deliver strong, level, and squeak-free floors, meeting the expectations of builders and occupants alike.
To download any of the free publications listed in this article, please visit www.apawood.org.
Cory McCambridge is an engineered wood specialist representing APA – The Engineered Wood Association in Canada. Based in Mississauga, Ont., he is an architectural technology graduate of Algonquin College and has more than a decade of architectural and structural design and analysis experience. He can be reached at help@apawood.org.

Control the content you see on ConstructionCanada.net!
Learn More.