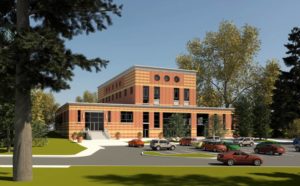 At a site that has played such varied roles as a waste transfer station, garbage incinerator, and shoot location for Cinderella Man since its construction in the 1930s, a new event venue will be opening this fall. The Symes, located at 150 Symes Road in Toronto, balances the site's historic feel with modern features.
"We're thrilled with this art deco masterpiece with such a historical significance to the city," said Viviana Kohon, one of the three partners on the project and its director of marketing. "We look forward to showcasing it through our clients' events. We want to keep the site's original beauty intact, while keeping with our own philosophy and vision."
Kohon shares her role of partner with Namita Tandon-Walsh and Caitie Yue. The three engaged Jedd Jones Architect Ltd. and Barbara Nelson Interior Design to oversee this restorative project on a designated Heritage site.
"We have an experienced team with great insight into how spaces are supposed to work," said Yue. "We're devoted to quality and service at the Symes, to make our clients' lives easier and to create memorable experiences."
The site comprises 2.2 ha (5.5 acres) in the Junction District, and can be accessed by car or by public transit. Between its two rooms (each of which contains a bar, staff and kitchen areas, lounges, and accessible entrances and restrooms), it offers 901 m2 (9700 sf) of space.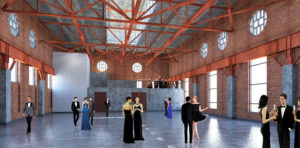 The ground-floor room, termed the Grand Symes, can accommodate 350 guests within its 539-m2 (5800-sf) area. The large event space offers vaulted ceilings, skylights, and enough space for vehicles to drive directly inside. The facility's second storey, the Scarlett Room, offers a slightly smaller space, with 381 m2 (4100 sf) available for 280 guests. However, an outdoor terrace not only offers a 180-degree city view, but also allows enough space to accommodate 250 more guests outdoors.
"It's old, it's young, and it's romantic," said Tandon-Walsh. "We want people to just walk in and fall in love with the space like we did when we first saw it. We look forward to welcoming the community to the space this fall."