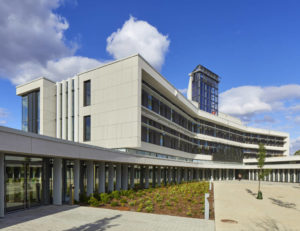 York University's new bioclimatic building, designed by Baird Sampson Neuert, delivers an exemplary level of energy efficiency and environmental quality and occupant comfort.
The architecture firm collaborated closely with its team of engineering partners to develop the design through an integrated, whole building approach to bioclimatic design.
Situated on a gateway site to York University, the building houses new spaces for research, teaching, and administrative/office functions to support expansion of the school's graduate programs.
All spaces are designed to facilitate a sense of building transparency, community inclusivity, and barrier-free access. The building is organized around a multi-level social space crossed by horizontal and vertical pathways, with an open stair wrapping its edges. Various-sized teaching spaces, event spaces, and breakout rooms are organized around this central space, facilitating spontaneous meetings while providing quiet work areas for students.
Building wide audio-visual technology, including a large liquid crystal display (LCD) screen array in the central atrium facilitates connectivity with international partners during programmed events. A ground-level café adds to the social space of the central atrium. On the third floor a 'bridge lounge' used for special events and receptions overlooks activities within the social space and is visible from the campus arrival boulevard through the atrium's triple-height façade.
A hybrid active-passive HVAC system employs an innovative 27-m (89-ft) tall solar chimney, using automated greenhouse technology, which works in tandem with building automation system (BAS) monitored operable windows in all spaces to optimize wide natural ventilation potentials.
The building minimizes reliance on mechanical air delivery, utilizing the air handling system only when the natural ventilation system is offline during high summer and winter conditions. This has resulted in minimal internal ductwork, improved indoor air quality (IAQ) and exemplary quiet and comfortable spaces. Targeting LEED gold, the project is designed to achieve an ultra low energy footprint of 72.4 kWh/m2/annum, an 83 per cent improved energy performance than the Model National Energy Code for Buildings (MNECB) reference standard. An approximate 68 per cent reduction in carbon emissions.