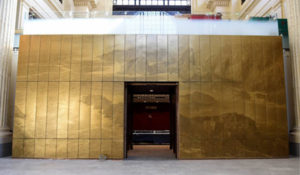 The Senate has delayed the move to its new temporary chamber, a former train station, because of acoustics issues. Following complaints from staff members who took part in a series of test-runs in the new chamber, the Senate's internal economy committee said the planned move will be put off until February.
During testing, it became apparent disruptive noise levels caused by a design deficiency, which resulted in a ceiling gap would have significant impact on operations and must be addressed prior to the Senate's return.
"The noise transfer from the foyer and mezzanine was significant and disruptive to the proceedings inside the chamber. It made it virtually impossible for participants to hear the person that had the floor," Conservative Senator Scott Tannas told reporters and a CBC correspondent during a media tour of the Senate's new home earlier this month.
The committee recommended the Senate resume sitting later than originally planned as additional time is required for construction and testing. Supplementary sittings are expected to be added to ensure this does not impact legislative operations.
The next session for the Senate is slated for February 19, 2019.