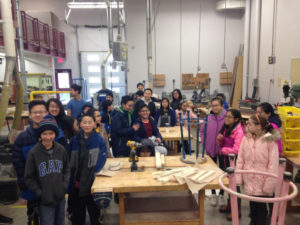 The Ferris Elementary School in Richmond, B.C., is the winner of the annual Greenest School in Canada competition, conducted by the Canada Green Building Council (CaGBC) and the Canada Coalition for Green Schools.
Now in its sixth year, the CaGBC Greenest School brings together a jury comprising green building industry experts from different sectors to review applications from across the country. Schools are judged on:
how environmental education is emphasized;
conservation programs and efforts;
how school facilities benefit the health of occupants; and
the schools' community initiatives.
W. D. Ferris Elementary stood out among the other submissions for its commitment to reducing its environmental footprint, and encouraging others to do the same. Their application highlighted the school's efforts around waste reduction, water and energy conservation, community involvement, and commitment to active transportation.
As the 2019 Greenest School in Canada winner, Ferris Elementary will receive a $2000 cash award to put toward a new or ongoing sustainability project.
"The Ferris school community is very honoured to be chosen as Canada's Greenest School for 2019 by the Canada Green Building Council. We also want to acknowledge the hard work done by students and staff daily in schools across Canada to educate their communities about environmental stewardship," said Diane Steele, the school's principal. "We encourage all schools to inspire green minded change in their communities."
Career and Technology Centre at Central Memorial High School in Calgary, Alta., was the runner up. In third place is the Westwood Community High School in Fort McMurray, Alta.