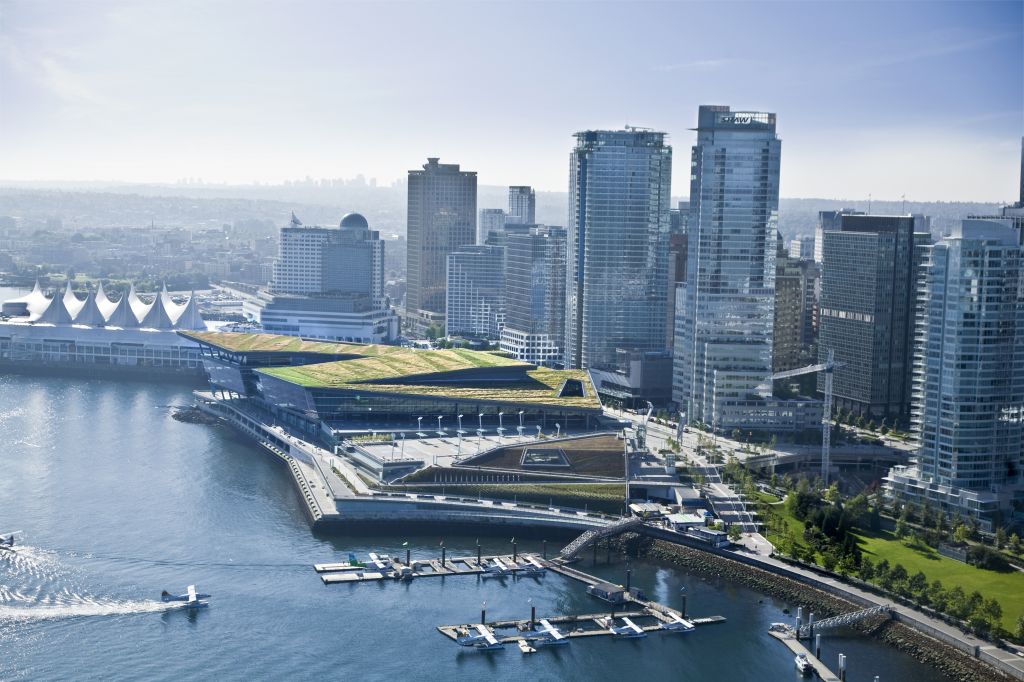 A British Columbia project has won an American Institute of Architecture (AIA) Institute Honor Award for Interior Architecture.
The first Leadership in Energy and Environmental Design (LEED) Platinum facility of its kind in the world, Vancouver Convention Centre West—designed by LMN Architects and Prime Architects: DA/MCM—occupies a former brownfield site on the downtown waterfront.
The development is about 5.7 ha (14 acres) on land and 3.2 ha (8 acres) over water; it includes 92,903 m2 (1 million sf) of convention space and 8361 m2 (90,000 sf) in retailing area. The convention centre project also boasts 37,161 m2 (400,000 sf) of walkways, bikeways, public open space, and plazas.
The facility is cooled during warmer months and heated in cooler months with a seawater heat pump system. (Steam provides backup heat.) It also has a water conservation/reuse strategy employing greywater to reduce potable use by 60 to 70 per cent over typical convention centres. One of the most sustainable aspects of the convention centre is its 2.4-ha (6-acre) living roof—the largest in Canada—containing about 400,000 indigenous plants.
AIA's jury chose the project for its inviting, warm public circulation achieved through use of daylighting, building landforms, and local materials that reference the area's industry and provide richly detailed surfaces.
Most of the interior makes use of naturally occurring materials indigenous to British Columbia, including sustainably harvested Douglas fir. A wood cladding system covers the ballroom and meeting room programs that form most of the building's interior.
The AIA awards recognize work that exemplifies excellence in interior and exterior architecture, and urban design. Selected from more than 700 total submissions, the Vancouver Convention Centre West was among 27 winners selected throughout the world.
For more on the project, see the March 2010 issue of Construction Canada.