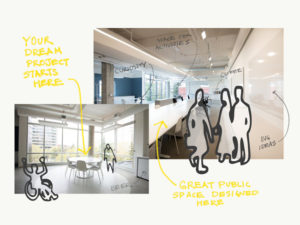 Architecture and design firm HCMA has expanded its practice by opening a new office in Edmonton, Alta. Although it is not physically open at this time, it is operating via Zoom.
"In recent years we have been venturing further East, working on some incredible projects, while meeting some even more incredible people. We wanted to be a part of that culture more permanently," HCMA said.
"While this is a Prairies story, we needed a base. Nowhere made more sense than Edmonton," HCMA said. "We are drawn to its civic leadership and its community-focused values. We want to contribute to its growing design scene, and work with other architects, designers, and artists."
Michael Rivest is HCMA's newest associate. Rivest is an experienced architect who believes the building blocks of community come from a sense of connection. He is joined by Zaid Tanveer, their new architectural intern, and at partner level, Michael Henderson will oversee the office.
The firm said they took the "best bits" from their Vancouver and Victoria, B.C., offices and applied them to the Edmonton one. It includes big gathering spaces for community events, quiet areas for deep work, moveable furniture for flexibility, and creator spaces for future artists in residence.
"Most of all, we want to continue engaging with local communities. We want to understand their challenges, listen to their desires, and design solutions that make them happier, healthier, and more connected," HCMA said.