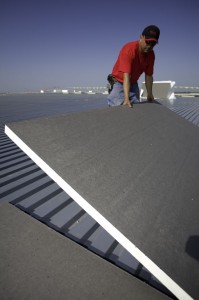 ASTM C1289, Standard Specification for Faced Rigid Cellular Polyisocyanurate Thermal Insulation Board, has been revised with changes to the way long-term thermal resistance (LTTR) R-value is calculated for roofing systems.
LTTR is a calculation method used to determine the 15-year time-weighted average R-value of roof insulation and has been adopted by most polyiso manufacturers.
Included in the updates are two test methods: ASTM C 1303-11, Standard Test Method for Predicting Long-term Thermal Resistance of Closed-cell Foam Insulation, and Underwriters Laboratories of Canada (CAN/ULC) S770-09, Standard Test Method for Determination of Long-term Thermal Resistance of Closed-cell Thermal Insulating Foams.
Both will be used for predicting the LTTR performance of polyiso insulation materials. The updated standard and test procedures will ensure more consistent R-value readings across North America, Jared Blum, Polyisocyanurate Insulation Manufacturers Association's (PIMA's) president told Construction Canada Online.
"The primary interest for Canadian specifiers and consumers of polyiso is there is now greater unity between the nominal Canadian and U.S. standards for measuring and reporting R-value," he explained. "Since the CAN/ULC and ASTM test methods are now recognized as comparable, the reported thermal value of polyiso products should be consistent regardless of manufacturing location and end market throughout North America. As a result, both Canadian and American consumers will be able to base their product selection decisions on consistent information."
The new changes take effect January 1, 2013, and are only relevant to polyiso insulation at this time.