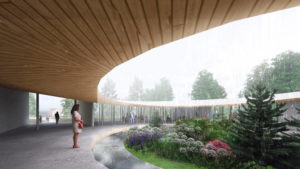 Parks Canada launched the public engagement phase on concepts for Rouge National Urban Park's visitor, learning, and community centre.
Designed by Moriyama & Teshima Architects, in partnership with Six Nations of the Grand River-based Two Row Architect, the draft conceptual designs for the centre feature an esthetically and environmentally progressive, accessible building with visitor amenities that include indoor and outdoor multi-purpose gathering spaces and a viewing platform.
Located across the street from the Toronto Zoo, on the east side of Meadowvale Road, the centre will serve as an orientation and learning hub. Visitors and residents can gather and learn about the park's natural, cultural, agricultural, and Indigenous heritage.
Visitors will also learn about Parks Canada-administered places across the country through integrated interpretive installations and design. The centre will welcome park visitors, volunteers, youth groups, and community members, as well as anchor Parks Canada's presence in the country's largest metropolitan area.
"The vision for the Rouge National Urban Park's visitor, learning and community centre is to create a go-to community hub that celebrates and showcases this protected place," said Jonathan Wilkinson, minister of environment and climate change and minister for Parks Canada. "By collaborating with partners and surrounding communities to bring this vision to light, Parks Canada will help visitors discover and connect with nature and history, all within the boundaries of Canada's largest urban centre. Entry into the facility will not only be the first step towards exploring Rouge National Urban Park, but also to discovering Parks Canada-administered places across the country."
These designs are the result of significant collaboration with Indigenous partners, park farmers and community leaders who helped make Rouge Valley a national park by protecting the area from development. Between February and July, Parks Canada engaged with these partners to gather ideas and stories to shape the form and content of the centre's conceptual designs for public engagement.