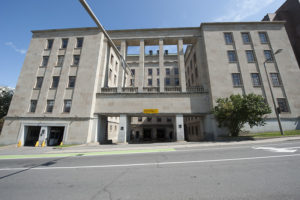 The federal government is moving forward with the renovation of the West Memorial Building in Ottawa aiming to make the structure as green as possible while respecting its heritage character.
Moriyama & Teshima Architects and Kasian Architecture Interior Design and Planning were awarded a $14.2 million contract to provide design and architectural services for the West Memorial Building, which was constructed between 1954 and 1958.
The building, which is currently unused, will become an accessible and modern workplace meeting today's health, safety, and environmental standards.
This heritage asset will serve as temporary accommodation for occupants of the Supreme Court of Canada Building during future rehabilitation work on that structure, slated to start in 2023. Once the occupants have returned to the Supreme Court building, West Memorial will serve as a long-term office space for future government tenants.
Rehabilitating the West Memorial Building honours Canadians who served the country during the Second World War. A request for proposal to select a construction management firm will be launched this summer.
"We are pleased to announce the first milestone in this important project and also honoured to be part of the rejuvenation of this heritage building. Revitalizing this memorial is another way for us to honour our Canadian veterans," said Carla Qualtrough, federal minister of public services and procurement.
The West and East Memorial Buildings and the connecting Commemorative Memorial Archway form Canada's primary Second World War memorial.