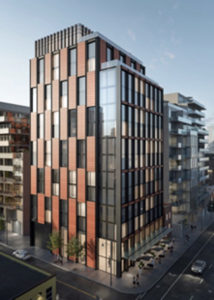 New York's iconic Hudson hotel is set to debut in downtown Toronto in 2024. The proposed 6968-m2 (75,000-sf) project will feature 146 rooms.
The Hudson is part of international hospitality group Sbe's collection of luxury boutique hotels, the House of Originals.
"I am very proud to see the iconic Hudson hotel take its legacy outside of New York in the cosmopolitan city of Toronto," said Sam Nazarian, Sbe founder. "This marks the beginning of the Hudson brand's global expansion and continuation of its innovation and well-known fame."
The design team for the Hudson includes lead architect Peter Clewes of ArchitectsAlliance.
"Known for a deep commitment to city-building and sustainable growth that is evident in all his projects, Peter brings a unique, forward-looking perspective to shape the Hudson Toronto with a striking, culturally relevant design," Sbe said.
Leading the interior design will be DesignAgency.
The project is subject to municipal approvals with hearings scheduled for Spring 2020.