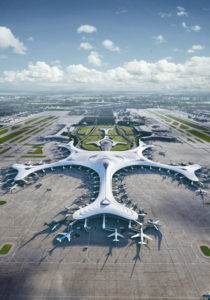 MAD Architects' design for Terminal 3 of Harbin Taiping International Airport in Harbin, China, looks like a snowflake that has gently fallen onto the earth. The proposed architecture settles into its locale, while also expressing itself as a surreal, interstellar space of future air travel.
The terminal building references the slopes of China's Northern plains, and the region's immense snow and ice.
Covering 3300 ha (8154 acre), the terminal will comprise a series of ancillary airport facilities, including ground transportation hubs, hotel, retail, and parking lots.
MAD's design establishes an architectural program that is human-scale, and provides a multi-sensory experience that is also efficient and energy saving. The scheme's snowflake-shaped, five-finger departure corridors shorten the time it takes for passengers to arrive at their gate, while also minimizing congestion and improving the overall efficiency of the airport apron.
The interior has been landscaped with indoor gardens demarcating major zones of the terminal. They form areas of greenery connecting the building's different levels, and offer an escape for passengers.
Ridges on the roof mimicking snowdrifts function as skylights, flooding internal spaces with the warmth of the sun, reducing the need for artificial light. At the same time, their rhythmic direction naturally guides travelers through the space.
The Ground Transportation Center (GTC) hub brings high-speed rail, municipal subway lines, airport buses, and other urban transport together, connecting Harbin city to the airport and surrounding amenities, encouraging citizens to travel green. The multi-tiered GTC's garden layout integrates natural plant growth into its various functions, providing a comfortable and relaxing area for travelers as they transition between the city and the airport.
MAD's concept strives to break-the-mould of the typical modern mega-airport, bringing humanity, nature, and the local environment together.