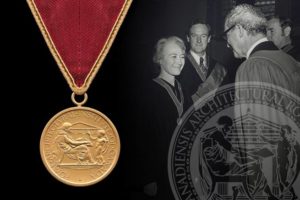 The Royal Architectural Institute of Canada (RAIC) named 26 individuals to the RAIC College of Fellows for 2021. There are 13 cities and communities from across the country represented in this year's cohort.
The College of Fellows of RAIC bestows Fellowship to RAIC members in recognition of outstanding achievement. The criteria includes design excellence, exceptional scholarly contribution, or distinguished service to the profession or the community.
The new 2021 Fellows are:
Atlantic: Spyro Trifos (Sydney) and Keith Robertson (Halifax);
Quebéc: Manon Asselin (Montréal);
Ontario North and East and Nunavut: Guillermo Ceppi (Ottawa), Terrance G. Galvin (Sudbury), William Semple (Ottawa), and Jill Stoner (Ottawa);
Ontario Southwest: William J.E. Curran (Hamilton), Matthew Lella (Toronto), Veronica Nerissa Madonna (Toronto), Shelagh McCartney (Toronto), Christopher Radigan (Toronto), Ya'el Santopinto (Toronto), Drew Sinclair (Toronto), Graeme Stewart (Toronto), and Adam James Thom (Toronto);
Manitoba: Brent Bellamy (Winnipeg) and Robert Winslow (Winnipeg);
Saskatchewan: Patrick Kelly (Regina);
Alberta/Northwest Territories: Shafraaz Kaba (Edmonton) and John H. Savill (Lethbridge); and
British Columbia/Yukon: Helen Avini Besharat (Vancouver), Gregory Boothroyd (Vancouver), Christos Dikeakos (Burnaby), Kirsten Reite (Vancouver), and David Shone (Vancouver).
The new Fellows will be celebrated virtually on June 17 during the 2021 RAIC Virtual Conference.