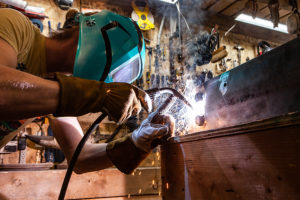 The Canadian Apprenticeship Forum (CAF) and the Government of Canada have launched the new federal Apprenticeship Service, to create more than 25,000 positions across Canada, including in the construction and manufacturing trades.
According to BuildForce Canada, the construction industry needs to recruit 309,000 new workers in the next decade (2021 to 2030). This requirement is driven predominantly by the expected retirement of 259,100 workers, which account for 22 per cent of the industry's current labour force.
The Government of Canada is investing close to $247 million in 13 projects which will enable small and medium-sized employers (SMEs) to offer apprenticeship training opportunities. One of these projects, which will receive more than $45 million of this investment, will provide financial support to SMEs to hire 4000 first-year Red Seal apprentices in the construction and manufacturing trades.
Over the next two years, apprentices in eligible trades will get the hands-on experience and training they require to progress towards becoming certified in the Red Seal trades as a result of connecting with opportunities at these employers.
The organizations being funded under the Apprenticeship Service will distribute financial incentives to SMEs, and provide additional supports, such as help navigating the apprenticeship system, onboarding apprentices, and creating welcoming and inclusive workplaces.
To help marginalized Canadians, the incentives are doubled for SMEs who hire from equity-deserving groups, such as women, persons with disabilities, Indigenous people, and racialized people.
"The Canadian Apprenticeship Forum is extremely pleased with the government's investments in apprenticeship," says France Daviault, executive director of the CAF. "The apprenticeship community understands the importance of encouraging and supporting employers to hire new apprentices. Through this investment, we will work with our partners at BuildForce Canada, SkillPlan, ApprenticeSearch.com, Aboriginal Apprenticeship Board, and the Canadian Construction Association to provide a range of supports, financial and otherwise, to employers who take on the important role of training tomorrow's skilled trades workforce."