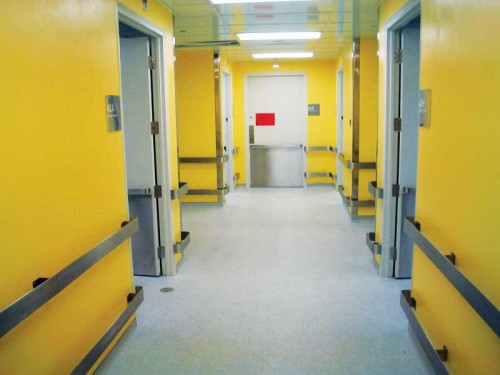 By David Walker, BBA, MBA, NACE, and Greg Pope, NACE
The proverb, "cleanliness is next to godliness," applies to research facilities where walls, ceilings, and floor surfaces must be kept in a neutral, sterile environment to prevent bacteria or other micro-organisms from affecting testing protocols.
Over the past decade, more than 93,000 m2 (1 million sf) of spray-applied or mat lay-up fibre-reinforced epoxy wall coatings have been used at sterile animal laboratories, vivariums, and pharmaceutical and medical facilities across Canada and the United States. Common substrates where the coating systems are applied include high-impact gypsum wall board, cement board, concrete masonry units (CMUs), and poured or precast concrete. (See ASTM D3730-10, Standard Guide for Testing High-performance Interior Architectural Wall Coatings).
Fibreglass-reinforced coating systems enhance the integrity of the substrate to which they are applied, providing superior resistance to impact, thermal shock caused by daily high-pressure steam-cleaning, along with the detergents and disinfectants that sanitize surface areas.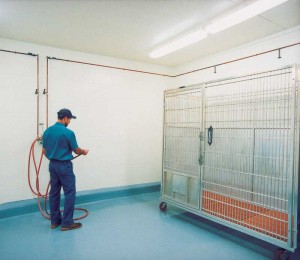 Coatings create a seamless, monolithic surface, unlike tiles or panels, which have grout lines, anchor points, and seams in which dirt can accumulate and bacteria can grow. These penetration areas resist disinfection and also create pathways to spaces behind the wall for micro-organisms and insects to infiltrate. When it comes to animal laboratory facilities, a preference for seamless wall, floor, and ceiling coating systems is cited in published guidelines from National Institutes of Health (NIH), Canadian Council on Animal Care (CCAC), and National Research Council (NRC).
Vivarium design
Criteria for vivarium design and engineering of walls, ceilings, and floors is included in CCAC's Guidelines On: Laboratory Animal Facilities—Characteristics, Design, and Development. The resource emphasizes the need for all materials and finishes to be designed to facilitate the sanitation process.
The publication suggests materials and finishes be durable, impervious, and resistant to water and chemicals used in their sanitation. Additionally, they must be able to withstand physical damage by items used in the facility, such as cage racks, carts, and various cleaning equipment. Ledges, crevices, cracks, and unsealed service penetrations that can harbour dirt and vermin should be eliminated whenever possible, and all hollow doors must be filled or completely sealed.
Walls should be covered with an impervious coating that withstands frequent cleaning and chemical disinfectants and has been tested for high stain resistance. The walls need to be free of cracks, and all pipe and service sleeves should be sealed to exclude vermin. For ease of cleaning and disinfection, the walls must be seamless and the floor coved to the walls after installation of wall systems.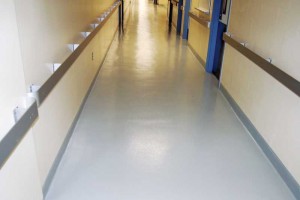 Seamless urethane flooring with an integral cove base is the most common flooring used, especially in animal rooms. It is durable, impervious to many chemicals and solvent-based products, and easily cleaned. While there is possibility for slip resistance to be created, care must be taken not to have the surface too rough since this reduces the floor's lifespan and makes sanitation more difficult. Input from those who will use these spaces is critical to achieving the desired finish and safety.
As with floors and walls, ceilings must be resistant to frequent washing and disinfection protocols; however, they are not subject to the same wear and tear. The preferred substrate for ceilings is moisture-resistant drywall that is well-sealed at all ceiling-wall joints and penetrations. It should be coated with a two-component 100 per cent solids epoxy finish and a waterborne urethane as to maintain little to no volatile organic compounds (VOCs) during construction and maximize performance of the overall coating system. A seamless ceiling should be provided in all animal holding, procedure rooms, and cage wash locations.
Construction guidelines for walls, floors, and ceilings are also included in NRC's Guide for the Care and Use of Laboratory Animals, which specifies ceilings and floors should be "smooth, moisture-resistant, non-absorbent, and resistant to damage from impact." The document emphasizes durable, moisture-proof, fire-resistant, seamless materials are most desirable for interior surfaces. These should also be highly resistant to the effects of cleaning agents, scrubbing, high-pressure sprays, and impact.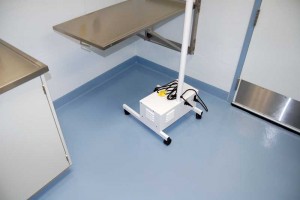 At two Canadian university research facilities, specifications called for monolithic, fibreglass-reinforced coatings for walls, ceilings, and floors in laboratory animal facilities. The specified 100 per cent solids epoxy and waterborne urethane technology was solventless, virtually odourless, and compliant with standards in Canada and the United States.
University of Western Ontario
At the University of Western Ontario's (UWO's) Modular Animal Care Facility (MACF), fibre-reinforced wall coating systems were specified for high-impact gypsum wall board, CMU, and poured concrete wall surfaces. Each substrate required specialized primers and parge coatings as a base over which high-performance coating systems were applied. An odourless cementitious acrylic masonry filler was applied to CMU walls, an aggregate-reinforced surfacer was applied to poured concrete, and a 100 per cent solids epoxy surfacer was used on drywall nail heads and seams.
Located in London, Ont., the multi-story MACF is divided into four zones that contain mechanical equipment, holding rooms, procedure and lab space, cage washrooms, and animal storage. The holding and research facility adjoining the university's hospital consists of four distinct modules to house pigs, primates, pregnant sheep, and mice. A 100 per cent solids fibreglass mat-reinforced epoxy coating system was specified for the holding rooms and high-risk, animal-exposed areas, while a non-reinforced system was used for all interior overhead gypsum wall board and remaining wall areas.

Control the content you see on ConstructionCanada.net!
Learn More.