Announcing the 2019 WAFX prize winners
by sadia_badhon | September 6, 2019 3:05 pm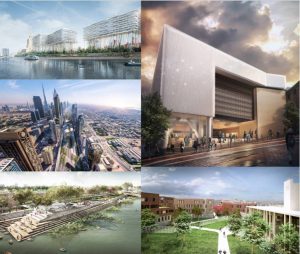 The Tanks at Bushwick Inlet Park by Studio V Architecture[2] and the Ulsoor Lake project by Arup[3] are the joint winners of the 2019 WAFX awards in the Water and Food category.
Ten designs addressing some of the world's biggest challenges have won awards. The 2019 WAFX Awards celebrate proposals from across the globe tacking subjects ranging from ageing and health to cultural identity and carbon reduction. They are additional prizes for projects shortlisted for the World Architecture Festival[4].
Located on the waterfront in Brooklyn, New York, the Tanks reimagine what a public park in the 21st century can look like. Nestled against a green inlet on the East River, the complex features 10 oil tanks that have been empty for half-a-century. Each tank is unique and the design vision adaptively reuses the structures as community gardens, performance spaces, galleries, and environments for natural habitats.
One of the largest remaining open spaces in Bangalore, India, Ulsoor Lake has not been developed in line with the city's rapidly increasing population and is subject to many pollution threats. Arup's masterplan is for a holistic strategy, encompassing landscape design, ecology, engineering, and socioeconomics.
Winner in the Re-use category is the Badaevskij Brewery Redevelopment by Herzog & de Meuron and APEX Project Bureau in Moscow, Russia. The 'Smart Cities' winner is X-Space | Urban Fabric Regeneration in Dubai by Verform, and the winner in the Cultural Identity category is City Rail Link (CRL) by Jasmax + Grimshaw in Auckland, New Zealand. The Ethics and Value winner is the School in a Park by Maisam Architects & Engineers in Amman, Jordan, and the 'Power and Justice' winner is the Prison Haren by Cafasso NV with B2Ai / EGM Architecten in Belgium.
The winner in the Ageing and Health category is the Pars Medical and Health Centre in Iran by New Wave Architecture Studio. The Building Technology winner is Skypark Business Centre South by Aravia Design & +FUN in Luxemburg, and the Climate, Energy, and Carbon winner is MO(O)D A Prototype for an Office Building by SOS School of Sustainability in China.
Endnotes:
[Image]: https://www.constructionspecifier.com/wp-content/uploads/2019/09/e9865c53-d263-4700-9012-c8c620e6b737.jpg
by Studio V Architecture: https://www.studiov.com/
Arup: https://www.arup.com/
World Architecture Festival: https://www.worldarchitecturefestival.com/
Source URL: https://www.constructioncanada.net/announcing-the-2019-wafx-prize-winners/
---