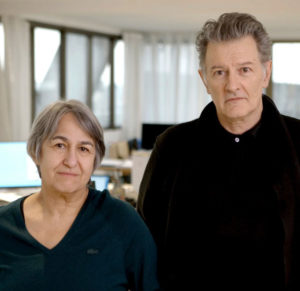 Anne Lacaton and Jean-Philippe Vassal of France have been selected as the 2021 Pritzker Architecture Prize Laureates. They are the 49th and 50th laureates of the prize respectively.
"Good architecture is open—open to life, open to enhance the freedom of anyone, where anyone can do what they need to do," said Lacaton. "It should not be demonstrative or imposing, but it must be something familiar, useful, and beautiful, with the ability to quietly support the life that will take place within it."
The architects increase living space exponentially and inexpensively, through winter gardens and balconies that enable inhabitants to conserve energy and access nature during all seasons. Latapie House (Floirac, France 1993) was their initial application of greenhouse technologies to install a winter garden that allowed a larger residence on a modest budget. The east-facing retractable and transparent polycarbonate panels on the back side of the home allow natural light to illuminate the entire dwelling, enlarging its indoor communal spaces from the living room to the kitchen, and enabling ease of climate control.
"Not only have they defined an architectural approach that renews the legacy of modernism, but they have also proposed an adjusted definition of the very profession of architecture. The modernist hopes and dreams to improve the lives of many are reinvigorated through their work that responds to the climatic and ecological emergencies of our time, as well as social urgencies, particularly in the realm of urban housing. They accomplish this through a powerful sense of space and materials that creates architecture as strong in its forms as in its convictions, as transparent in its aesthetic as in its ethics," said the jury.
They established their practice, Lacaton & Vassal, in Paris in 1987, and have completed more than 30 projects throughout Europe and West Africa.