Engineering challenges
The design for an ultra-high-performance concrete project is based on characteristic design values associated with the specific formulation used in each project. The outline for the Rotman building was fairly straightforward. The usable tensile resistance of the UHPC allowed for thinner and more efficient precast panel cross-sections, without the standard use of steel reinforcing as in regular concrete.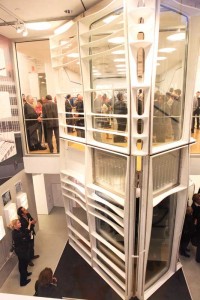 Smaller precast cross-sections resulted in lower weights for the assembled curtain wall units which, in turn, allowed for easier handling, transportation, and reduced foundation requirements. The building's overall weight reduction also decreased the possible seismic loads induced on the structure during a potential earthquake. The Rotman School of Business expansion project used exterior UHPC panels of just 30-mm (1.2-in.) thickness, with no steel reinforcing required. The thin panels were designed to withstand all possible loads within a reasonable deflection criterion.
The precaster and curtain wall manufacturer engineered the panels to be cast with inserts to ensure proper fastening. The panels were then shipped from the precaster to the curtain wall manufacturer, installed in the system, and shipped to the site as completed, assembled sections.
KPMB said the additional weight of the larger UHPC panels (by comparison to stone or aluminum panels), along with the oversized unitized curtain wall panels, created some installation challenges that were easily overcome by the façade contractor. For example, since the UHPC panels had a smooth exterior surface, they were able to continue to use vacuum cup lifters typically used only with glass. This allowed the shop processes to be maintained, helping meet the schedule and keep costs down.
KPMB said there were numerous reasons for using UHPC. Due to a constrained schedule, having a local manufacturer capable of producing and delivering the panels on time was the key to success. Additionally, the ability to bring together two trades––the curtain wall manufacturer/installer and the precaster––to work out details and work toward a common goal was also important.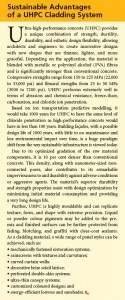 Collaboration: the key to success
As with most innovative designs, strong collaboration among various key parties is paramount to the success of a new approach. In this case, the precaster was fairly new to UHPC; therefore, processes were developed to ensure a quality consistent finish for every panel. Also, because the curtain wall manufacturer had never worked with UHPC panels (inserted into their curtain wall system), the project managers had to co-ordinate the transfer of knowledge and procedures for everyone involved. This ensured the final product met and exceeded the design and esthetics parameters, which were key requirements by both the architect and owner.
"We really worked collectively to overcome the challenges of this project by fabricating various samples together and then testing them to meet everyone's satisfaction," said Peter Calcetas, former director of business development for the UHPC supplier." The culmination of this collaborative effort was a full-scale, complete prototype mock-up erected on the curtain wall manufacturer's property. Maximum wind load, pressure, and suction tests were conducted with and without rain. Overall, the system worked very well and surpassed every test."
Other UHPC façade solutions
While the Rotman project demonstrates how ultra-high-performance concrete can be used in large-format, thin panels, there are several other design directions that may be explored when developing façades with this material. The introduction of curves, perforations, textures, and folds can initiate exciting new design elements never before attempted in façade expression. Not only is UHPC being used to change the surface, but it is also being conceived of as the unitized system itself. No longer is an architect tied to the typical extruded cross-sections of an aluminum curtain wall system––as demonstrated in an award- winning UHPC curtain wall system developed by architect Peter Arbour. (For more information on the Liquid Wall, visit www.theliquidwall.com).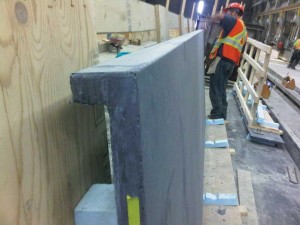 UHPC's superior characteristics do not stop with its strength and ductility––it is also extremely durable and provides a sustainable structure at the same time. The increased lifecycle of UHPC building façades results in less environmental impact over time compared to an envelope built with conventional materials. Examples of other inspirational UHPC façades include Victoria's Atrium (For more information on The Atrium, see D. Zakariasen and P. Seibert's "Precast Solution for Performance Cladding: ultra-high-performance concrete for B.C. building," in the September 2010 issue of Construction Canada. Visit www.constructioncanada.net and select "Archives.") with curved, textured elements, and a unique perforated exterior for an architect's office (Architectes Rocheteau Saillard) in La Baule, France.
Gaston Doiron, M.Eng., P.Eng., is a project manager for Ductal, Lafarge North America's ultra-high-performance concrete (UHPC). Based in Toronto, he is responsible for the management of Ductal projects throughout eastern North America. Doiron holds a civil engineering degree from Moncton University and a master's in structural engineering from McMaster University.  He can be reached at gaston.doiron@Lafarge-na.com. 
Kelly A. Henry, M.Arch, MBA, LEED AP, is the architectural project manager for Ductal UHPC at Lafarge. Based in Calgary, she is responsible for architectural projects across North America. Henry holds a bachelor of science in Microbiology from the University of Florida, and masters of architecture and MBA degrees from the Georgia Institute of Technology. As an architect, she has worked with building information modelling (BIM) technologies, and held an adjunct professor position at Georgia Tech in BIM Theory. Henry can be contacted via e-mail at kelly.henry@Lafarge-na.com.

Control the content you see on ConstructionCanada.net!
Learn More.