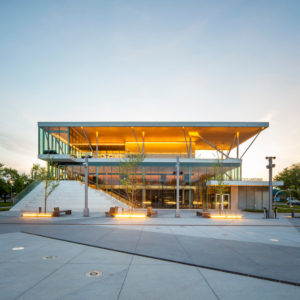 The curtain has lifted on the newest addition to Montreal's Repentigny Cultural Space.
Designed by FABG architects, the Alphonse-Desjardins Theatre offers a 350-seat variable configuration room and provides a prominent space for classical music performances.
To appreciate the surrounding cultural complex, a terrace-observatory broadcasts a panoramic view of a local cemetery, the Purification church, the St. Lawrence River, Lebel Island, thematic gardens, the forecourt, and the Diane-Dufresne Art Centre. The terrace is topped by a roof made of cross-laminated wood panels which, when illuminated at night, mark the space's identity on the scale of the new urban park.
The terrace-observatory, the staircase-bleacher, the largely windowed hall, and the positioning of the entrance surmounted by a marquee are all designed to maximize interactions within an outdoor space which extends the interior.
The configuration room's foyer is a large, double-volume space opening onto the outside and featuring a stepped staircase to facilitate informal occupation and complementary activities. The walls are lined with an acoustic resonator, consisting of vertical medium-density fibreboard (MDF) slats, spaced and arranged in front of absorbent panels of rock wool, and concealed by a black geotextile fabric. This device offers the advantage of keeping the acoustics of the room alive, while cancelling the risks of unwanted floating echo or excess reverberation for amplified shows.
The exterior layout provides visitors with a multifunctional civic space which can be easily transformed. The open space is energized by diagonal paving and framed by fevers, which provide shade and offer a pleasant environment in all seasons.