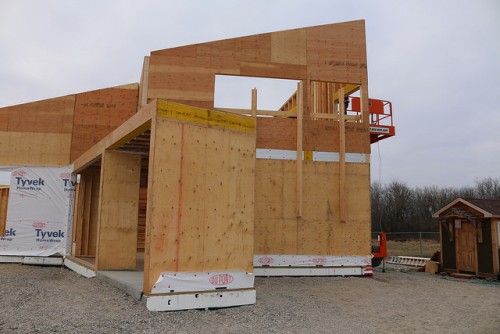 Architecture and carpentry students from Ottawa's Algonquin College are building a low-energy applied research lab with the goal of carbon neutrality.
The 232-m² (2500-sf) Perth Campus Residential Living Lab will be a high-efficiency building bringing students, faculty, and industry members together to create new techniques and technologies, solve existing building problems, and enhance student learning. GRC Architects designed the lab and incorporated features from students in the green architecture graduate program, while construction carpentry/advanced housing students manage the construction site.
The lab will not open until summer 2016; however, students are already participating in applied research projects—one being with EcoTay, where students are applying the latest building science techniques to a more than 200-year-old home, making it more efficient and upgrading the building envelope to today's standards.
On Nov. 30, industry members were invited to tour the facility that is still under-construction to learn more about the lab's goals.
"What a legacy for these students, who will be able to point to this building with pride long after they graduate," said Chris Hahn, dean of the Perth campus. "As a polytechnic, Algonquin is known for its applied research and this project will allow us to step up our efforts across all of our program areas, including the construction sector."
To learn more, click here.
Earlier this year, Construction Canada looked at the school's new construction research facility.