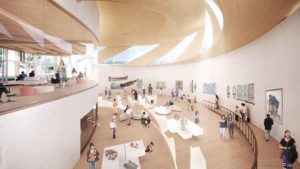 The design for Algoma university's Mukwa Waakaa'igan Indigenous Centre of Cultural Excellence in St. Sault Marie, Ontario, relies heavily on building expertise held by Anishinabek Nation Elders and community leaders, so to act as a physical monument to reconciliation and healing.
The project is a collaboration between Indigenous-owned Smoke Architecture and Ottawa and Toronto-based Moriyama & Teshima Architects. The architectural design for the centre has been articulated through consideration of Indigenous teachings, from building form to material selection.
At the gateway to Algoma University campus is Shingwauk Hall, a former residential school that operated between 1875 and 1970. Since the school's official closure, the Children of Shingwauk Alumni Association (CSAA) have been working with Algoma University to teach the truth about the residential school system's history in Canada and work toward healing.
The new Cultural Centre's architectural expression comes from the land, rising up through three paths that represent the past, present, and future, and standing above the residential school. This lifted position provides visitors a stronger, more dominant, and dignified vantage point from which to look upon the site's history.
The design practice of Smoke Architecture rediscovers Indigenous knowledge in contemporary contexts. This process of land-based learning applies to each project the firm undertakes, using engagement tools, design techniques, and building systems crafted specifically for each community and each place.