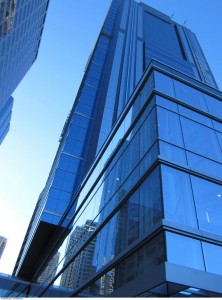 Calgary's Jamieson Place is the largest new construction project in Alberta to be certified under the Leadership in Energy and Environmental Design (LEED) program.
Awarded Gold, the 84,100-m2 (905,245-sf) office tower contains ground-floor retail and various sustainable features, including an efficient HVAC system, high-efficiency lighting, and low-flow water fixtures.
"As the interest in sustainable buildings continues to expand in Calgary, it is gratifying to see Jamieson Place demonstrate a real commitment to being green by achieving LEED Gold," said Enermodal Engineering's Matt Grace. (The firm was the LEED consultant for the project.)
Designed by Gibbs Gage Architects, the 38-storey building implemented various energy efficiency measures, including an airtight envelope, a waterside economizer, and a high-efficiency lighting plan.
The mechanical system is based on modulating boilers and chillers that run at varying speeds, depending on how much hot or cool air is needed. All fixtures, from showerheads to faucets to toilets and urinals, are low-flow. As a result of these measures, Jamieson Place uses 40 per cent less water than a conventional building. This is equivalent to annually saving more than 63,000 bathtubs of water.
Additional sustainable features include use of local construction materials and low-volatile organic compound (VOC) adhesives, sealants, laminates, paints, and carpeting. Further, over half the wood used is Forest Stewardship Council (FSC) certified.