Air barrier considerations: Moving toward an impactful, sustainable building envelope
September 9, 2021
By François Lalande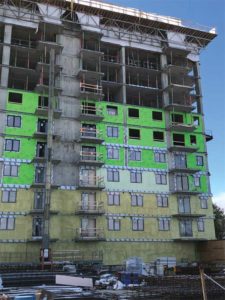 A strong air barrier is fundamental to the ecosystem of high-performing, durable, and passive buildings of tomorrow. As one looks to the future, building transformation would not be complete without an air barrier system (ABS) and its control layers contributing to a winning formula that is designed, designated, and detailed to control water, vapour, and air. These control layers are placed throughout the building in properties such as the roof, walls, and floor, to the below-grade structures such as the foundation, slab, parking, storage, utility rooms, communication conduits, and more.
The air barrier performance is a key aspect of a durable building envelop and the pressure differential between the environments is a constant stress. The performance of the air barrier system is the key to a sustainable envelope. The pressure differential between the environmental separation generates constant stress on the envelop which is much higher compared to the diffusion to water vapor diffusion which is a slow and less damaging phenomenon for the building. For normal buildings, a deficiency of the air barrier in a wall can generate 100 times more water than the diffusion of water vapor for the same service conditions.
The vapour barriers always go on the warm side of the assembly, but the air barrier system has a better chance of success outdoors because the sealing plane is more linear and simpler. When using Spray Polyurethane Foam (SPF) x 0.9 (2 lb) close cell product conform to Underwriters Laboratories of Canada (CAN/ULC) S705.1 Standard for Thermal Insulation, the material needs to qualify as a vapour barrier at 50 mm (1.9 in.) according to National Building Code (NBC) requirements, but each material have is own performance relate to install thickness. The vapour barrier properties perform in the homogeneous close cell structure and the diffusion work on both directions.
On the trajectory toward ongoing, sustainable, and impactful buildings, the NBC 2015[2] indicates it is important to consider an ABS meeting CAN/ULC S741-08, Standard for Air Barrier Materials–Specification, and S742-11 Standard for Air Barrier Assemblies–Specification (including ASTM E2357[3], Standard Test Method for Determining Air Leakage Rate of Air Barrier Assemblies, with some limitation) resulting with the highest classification being A1. (Also refer to Standard for air barrier materials – specification[4] and Standard for air barrier assemblies – Specification[5])
The ABS must also meet the ultraviolet (UV) and heat exposure requirements of the material standards[6]. By complying with these standards, an ABS demonstrates its resistance to air flow and anticipated structural loads, including loads induced by air pressure differences. It also shows it is durable as it has sufficient resistance to expected service conditions during construction and does not change its properties after it has been applied to its substrate.
Making durability a priority
CAN/ULC S742 is a Canadian benchmark of performance but in addition to minimum requirements in this test method, some available ABS qualify on many substrates, construction detail options, and choices in accessories. Further, consider an air barrier solution where the manufacturer included additional accessories like Z-girts and many types of thru-wall flashing in the testing. This type of testing represents many options and realities of a building construction site. All these options can be found in the manufacturers technical guide.
A durable and high-performing ABS is usually designed and tested to withstand the highest sustained wind loads across the country. This process entails the walls tested were exposed to the maximum pressure set in CAN/ULC S742-11 with winds 1/50 years, P1 of 1000 Pa. Therefore, it equates to the strongest ABS one can find in the market. This kind of strength lends to a system that can be installed on the highest buildings across Canada. (There may be building height limits depending on their location.) A good rule of thumb when making durability a priority is to consider an ABS exceeding the requirements of:
CAN/ULC S742-11;
Canadian Construction Materials Centre (CCMC) technical guide;
Air Barrier Association of America (ABAA); and
American Society of Heating, Refrigerating, and Air-conditioning Engineers (ASHRAE), 90.1, Energy Standard for Buildings Except Low-rise Residential Buildings.
There are air barrier systems out there that have been tested with a cycling pressure of 1000 Pa (P1) and have a wind load limit of 3280 Pa (P3), making them the strongest air barrier systems available. By meeting this standard, these systems show they can maintain continuity of airtightness and structural performance at material joints at junctions with air barrier components and at typical penetrations through air barrier assemblies.
Getting it right with testing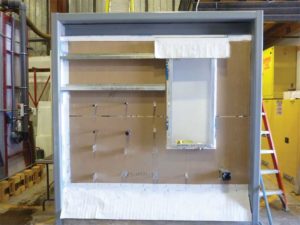 For efficiency and saving time, an ABS that is compatible with all types of construction materials and which also bridges gaps and joints of different building materials, can reduce the requirement of other air barrier membranes.
Some air barrier testing has been conducted with and without membranes and have achieved the same results. As an example, some solutions will bridge open joints of 12 mm (0.5 in.) without requiring the use of additional membranes over exterior gypsum sheathing and masonry cracks. Depending on the chosen product, this means only 25 mm (1 in.) of spray polyurethane foam (SPF) needs to be applied. This will help meet the building code requirements for air leakage of air barrier assemblies and the recommendations based on the relative humidity (RH) levels inside the building as indicated in Table A-5.4.1.2. (1)(2) of NBC 2015.
One of the most dynamic materials for developing a durable high-performance ABS is close-cell spray foam insulation (ccSPF). Under CAN/ULC S705.1-15, Standard for Thermal Insulation – Spray Applied Rigid Polyurethane Foam, Medium Density – Material Specification, the spray foam selected for the ABS will also provide the insulation properties according to CAN/ULC S770-15 Standard Test Method for Determination of Long-term Thermal Resistance of Closed-cell Thermal Insulating Foams.
There are some advanced solutions out there exceeding the requirement of NBC as an air barrier material. Today, hydrofluoroolefin (HFO) and sustainable closed-cell spray foams will act as insulation, air-barrier system, and vapour barrier at 50 mm and more. The three key properties could be delivered by only one product and one insulation contractor. This has a direct impact on construction cost and schedule. (ccSPF could be installed until -10 C [14 F] on dry and sound surface.)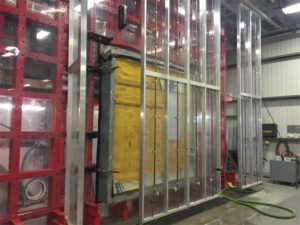 On the rainscreen aspect, some ABS testing was done in accordance with CAN/ULC S742-11, and after the test, the walls were exposed to one year weather conditions in Québec, and then retested for air tightness according to CAN/ULC S742-11 and water infiltration to meet ASTM E331, Standard Test Method for Water Penetration of Exterior Windows, Skylights, Doors, and Curtain Walls by Uniform Static Air Pressure Difference. The walls and details tested kept their water tightness and did not have any water infiltration under a pressure of 300 Pa after one year of exposure to site conditions and environmental elements. Note: All tests are performed without cladding.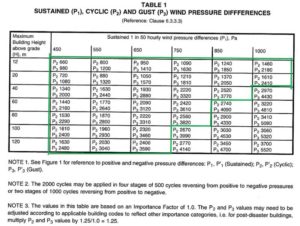 Something for builders, architects, and designers to direct their attention to is the in-field performance. All air barrier systems work in theory, but actual performance onsite takes on another reality. In the design stage and drawing process everything looks good and performs. Testing walls are built in labs and in perfect conditions with optimal site installation. To ensure predicted infield performance design, a security factor needs to be considered. In CAN/ULC S742-11 annex C there are the fifth minimum points to observe, but the best approach is to reproduce the tested assemblies in the manufacturer technical guide to obtain an ABS performance around air tightness and structural performance, continuity, buildability, and durability.
Most designers are satisfied with the general result of the air leakage performance according to the CAN/ULC S742-11 test method. The air leakage performance is classified from A1, 0.05 l/(s m2) @ 75 Pa to A5, 0.50 l/(s m2) @ 75 Pa. Often forgotten, is qualifying the building height limit according to the wind pressure in annex C of NBC for the climatic conditions of the construction site.
All air leakage rates from A1 to A5 have a building height limit according to the design wind pressure. Refer to Figure 1 in CAN/ULC S742-11. Performance air leakage rate comes with a building height limit.
Weighing the contribution of each component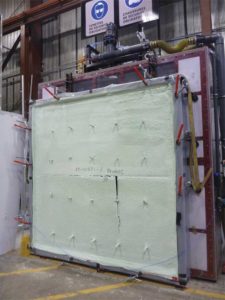 When analyzing air barrier systems, it is essential to not only think about how the system works wholly, but also the effectiveness of every component working in isolation. The validation and performance of these connections and the detailing of air barrier materials need to meet the requirements in the CAN/ULC S742-11 test method referred in NBC. The materials need to perform better than 0.02 l/(s m2) @ 75 Pa according to CAN/ULC S741-08.
Membrane
For example, the membrane itself should be installed around windows, doors, and sheathing joints. Columns or penetrations can be left without membranes if the opening is not greater than 12 mm in width. Air infiltration testing must be conducted and successfully passed with and without transition membranes at the column junction and penetrations. The installation of all types of membranes (self-adhesive, torch, or spray applied) must be done in accordance with the manufacturer's membrane guidelines. If a primer is required, it must be installed in accordance with guidelines. Usually, all construction details must be exactly designed and installed according to the manufacturing guidelines. If not installed accordingly or it shows blisters or air pockets, corrections need to be done before the spray foam application. In doubt, a site meeting for quality control with the membrane installer and manufacturer should be conducted before the spray foam application.
Accessories
The membrane is accompanied by a few accessories. The most common types being brick ties, Z-bars, and thru-wall flashing that have been tested. Even the brick ties attached directly to the stud should have been tested.
Primer
Any steel deck, galvanized steel or polyvinyl chloride (PVC) must be primed before the foam application.
Sealant and single component spray foam
Single component spray foam and sealant must be used around all windows and doors. Manufacturers and installers will typically validate window installation with sealant and single component spray foam. Something to take note of is if a window connection is done any other way than what the installer and manufacturer recommends for their ABS, co-ordination and validation need to be done with all manufacturers. Windows are a tested component in the ABS but the connection between the components need to be tested as well.
Currently, there is no universal durability protocol applying to all the materials making up a sound ABS. What is available as a minimum requirement in material standard CAN/ULC S741 is an accelerated aging to determine UV degradation and heat aging over a minimum of 21-day period. The pass criteria is a maximum of 10 per cent loss of performance after the conditioning with a maximum leakage rate of 0.02 L/(s m2) @ 75 Pa. The materials need to perform before and after conditioning and are more representative of infield installation.
Considering the installation methods
In addition to stringent product testing, ABS installers should be trained and certified to set up each component in a specific system. Infield installation quality assurance audits should be conducted on building projects to assure the design community and building owners the chosen solution delivers on its promise. Consider a system installer that will work with the group on each phase of the project. Starting with the design phase to final inspection to guide builders, designers, architects, and everyone involved.
Building project leaders should also consider the expertise of a Leadership in Energy and Environmental Design (LEED) green expert who can provide guidance and answer questions about methods and products as it relates to making a better selection of an ABS with the minimum global warming potential (GWP) impact according to the LEED v4 program.
Looking to the future
Even today, the ABS is one of the most neglected factors in the building envelope assembly. If an efficient ABS in not built, then one cannot follow suit with the construction of R-30 walls for that sought-after effect of high R-value. The air exfiltration and infiltration are the second most common building envelope deficiencies justifying major building retrofits.
Lastly, as mentioned previously, the only way to validate the building envelope performance is through commissioning and infield testing. This should be approached as an educational process to all building envelope trades and as a continuity of the actual building code requirements.

[11]François Lalande, an architectural technician, has more than 35 years of experience in the construction industry. Director of business development with Huntsman Buildings Solutions, he offers his expertise in building envelopes, energy efficiency, field quality control and building code compliance. Lalande participates in various research and development projects and is a member of the board of directors of the CEBQ (Quebec Building Envelope Council) in addition to participating on various technical committees including CAN/ULC S700 standards for insulation and polyurethanes.
Endnotes:
[Image]: https://www.constructioncanada.net/wp-content/uploads/2021/09/4-QC-site-inspection.jpg
NBC 2015: http://nrc.canada.ca/en/certifications-evaluations-standards/codes-canada/codes-canada-publications/national-building-code-canada-2015
ASTM E2357: http://www.astm.org/Standards/E2357.htm
Standard for air barrier materials – specification: http://www.scc.ca/en/standardsdb/standards/25156
Standard for air barrier assemblies – Specification: http://www.scc.ca/en/standardsdb/standards/25961
material standards: http://nrc.canada.ca/en/certifications-evaluations-standards/canadian-construction-materials-centre/ccmc-publications/registry/extranet/list
[Image]: https://www.constructioncanada.net/wp-content/uploads/2021/09/1-HBS-ABS-W1-lab-test-.jpg
[Image]: https://www.constructioncanada.net/wp-content/uploads/2021/09/2-E331-set-up-.jpg
[Image]: https://www.constructioncanada.net/wp-content/uploads/2021/09/HBS-ABS-table-1-from-742-only.jpg
[Image]: https://www.constructioncanada.net/wp-content/uploads/2021/09/3-lab-gust-wind-limit-.jpg
[Image]: https://www.constructioncanada.net/wp-content/uploads/2021/09/Lalande_Headshot.jpg
Source URL: https://www.constructioncanada.net/air-barrier-considerations-moving-toward-an-impactful-sustainable-building-envelope/
---