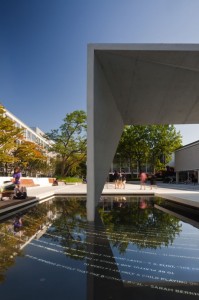 This year's medal-winners of the Lieutenant Governor of British Columbia Award in Architecture are:
North Vancouver City Hall (mcfarlane green biggar Architecture+Design);
Toronto's Regent Park Aquatic Centre (MacLennan Jaunkalns Miller Architects); and
Vancouver's University of British Columbia (UBC) Faculty of Arts Buchanan Courtyards Renew (Public: Architecture+Communication).
The UBC courtyard renewal project spans 6000 m2 (64,583 sf); it combines two public spaces and includes a new performance pavilion, seating, comprehensive stormwater harvesting, and recycling. The concrete pavilion is located in the park's reflecting pool.
"One thing I find about the Buchanan project is that it is a success because it has collaborative input from so many design disciplines—not just from architects and communication designers, also landscape architects, industrial designers, engineering, and lighting experts," Public principal, Susan Mavor, told Construction Canada Online.
Click here for the full list of winners.