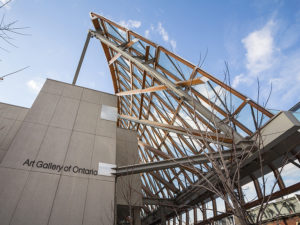 The Art Gallery of Ontario (AGO) has selected Selldorf Architects, Diamond Schmitt, and Two Row Architect to lead the design phase of AGO Global Contemporary, the museum's proposed net-zero expansion project.
The goal is to achieve net-zero carbon certification which, if successful, would make the AGO one of only a few museums in the world to accomplish this.
The proposed expansion will be approximately 4645 m2 (50,000 sf) for modern and contemporary art. This will be the seventh expansion the AGO has undertaken since it was founded in 1900. The most recent was the Transformation AGO expansion project, designed by Gehry International Architects Inc.
The three selected architects will design an expansion which will display the museum's growing collection of global modern and contemporary art. Annabelle Selldorf, of Selldorf Architects, will lead the design, in collaboration with Toronto-based Don Schmitt of Diamond Schmitt, and Brian Porter of Six Nations of the Grand River's Two Row Architect as Indigenous architect.
The appointment of an architecture and design team is the first step for the project which will undergo a municipal and public review process and final AGO board of trustees approval. A public presentation of a concept is anticipated later this year.