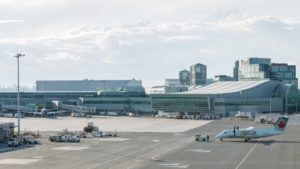 The Greater Toronto Airports Authority (GTAA) has selected infrastructure consulting firm AECOM to develop a long-term environmental master plan for Toronto Pearson International Airport (YYZ).
The plan will focus on six key areas in support of GTAA's environmental policy: climate change, carbon neutrality and emissions, strategic energy use, water management, natural environment, and waste management.
In this role, AECOM will develop strategic plans for each GTAA environmental focus area, which will together form an environmental master plan for Toronto Pearson International Airport. The firm will provide services, such as conducting baseline assessments for the focus areas, overseeing peer review and analysis of current strategies, identifying priority areas and related goals, preparing cost/benefit analysis for programs and targets, and recommending systems to monitor performance and communicate key metrics.
"We have partnered with GTAA for decades and look forward to applying this firsthand knowledge of local conditions, design standards, and airline needs to produce a high-quality, high-value product," says Marc Devlin, chief executive of AECOM's Canada region. "Our structured project management approach, combined with our technical depth, and focus on quality and familiarity of Toronto Pearson's dynamic operations will allow us to help define environmental and sustainability practices which will help pave the path towards GTAA achieving its ambitious and innovative best-in-class goals."
GTAA manages and operates Toronto Pearson International Airport, Canada's largest airport in terms of total passenger traffic and one of North America's largest in terms of international traffic. AECOM's previous work at Toronto Pearson includes the redevelopment of Terminal 1, where it served as the prime consultant responsible for groundside infrastructure; the original Terminal 3; and various roads and transit, water modelling, and critical infrastructure projects.