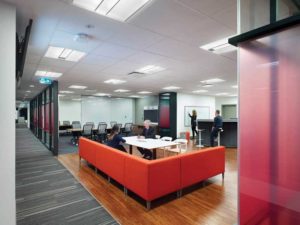 By William R. MacGowan, P.Eng., CEM, and Tony D'Alesio
In a smart building, connected technology creates a digital "ecosystem" where data is captured and analyzed, offering answers to questions like what a space is used for and how well the environment serves its occupants. This information, in turn, provides insights previously unobtainable—it enables businesses to optimize spaces, improve services, and deliver new value to investors, owners, employees, and customers.
Lighting is ubiquitous, with powered fixtures in every area of the building. In addition to illuminating office spaces with high quality and energy efficient light-emitting diode (LED) lighting, connected lighting with Power over Ethernet (PoE) collects data to inform owners of maintenance requests, occupancy trends, and requests for temperature control. The result is a smarter, more efficient, sustainable, and responsive building.
To harness the benefits of this new byproduct of the evolution of connected systems and the Internet of Things (IoT) requires reshaping the workplace. Previous efficiencies and improvements focused solely on fixed considerations and ignored a company's largest investments—real estate and employees. Connected lighting systems play a crucial role in helping businesses realize the value of smart buildings so they can attract or maintain investors, customers, and top talent, as well as stave off competitive threats, and remain innovative while spending and saving wisely.
Smart lighting—one of the largest investments for both new construction and retrofit projects—drives value across these five primary pillars:
capital expenditure is lowered;
energy savings and improvements in space management efficiency help lower operational expenditure;
carbon footprint is reduced;
asset utilization as lighting scene control is optimized across flexible workspaces; and
customer experience is enhanced with smart tools (e.g. mobile-based personal control and wayfinding features), which can lead to higher satisfaction and productivity ratings for the organization.
Positive impact
PoE is one of the transformational technologies for connected lighting systems driving buildings to be more smart and efficient. Using PoE technology, secure low-voltage power is delivered over Ethernet-structured cables to operate luminaires as well as send and collect high volumes of secure data.
Next-generation digital buildings combine collaborative innovations in smart devices/sensors with PoE (15 watts), PoE+ (30 watts), and Universal PoE (60 watts). Lighting also creates a layer of Internet Protocol- (IP) connected (light) endpoints in the ceiling. Embedding IP into the luminaire intelligence allows for each light to be uniquely addressable and securely protected from hacking. It can also deliver high rates/bandwidth of data as an information platform.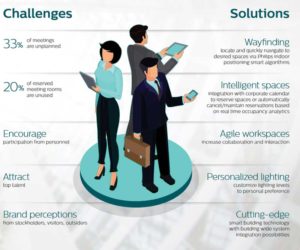 Canadian businesses are moving beyond energy savings.  They are seeking improved operational efficiencies, exploring space optimization, and looking for new ways to enhance employee productivity and well-being.
In 2016, the Forrester report, "IoT Smart Building Solutions transform the Workplace," cited a study by a furnishings manufacturer that found private offices are unoccupied 77 per cent of the time, workstations are unoccupied 60 per cent of the time, and conference room seating rarely reaches full capacity.
Since smart lighting technologies provide space utilization data and heat mapping, building owners can make better decisions by tracking how employees utilize a facility.
Four years ago, information technology (IT) and networking firm Cisco implemented a building systems network which replaced traditional AC power and secondary communication infrastructure to the luminaires with a highly secure, open, and scalable DC-powered structured cabling intuitive network. The PoE/PoE+ connected lighting system comprising 1400 LED fixtures and 700 sensors across 9290 m2 (100,000 sf) was installed at Oxford Properties RBC Waterpark Place III—a 90,903-m2 (1 million-sf) building in Toronto. The change was a response to some of the challenges the company faced, including brand perception and attracting top talent (Figure 1).
RBC Waterpark Place
To fully realize IoT's promise, lighting and IT companies must partner to give customers the best the industry has to offer. RBC Waterpark Place in Toronto is home to Cisco's Canadian headquarters. Owned by Oxford Development and built by EllisDon Corporation, the 30-storey Waterpark Place was one of the city's first Leadership in Energy and Environmental Design (LEED) Platinum office and retail developments, with many of its design aspects focusing on efficiency and sustainability.
A connected lighting system on all four floors of Cisco's office creates a cutting-edge workspace for employees, and offers facilities managers clear visibility on operations. The system at the RBC Waterpark Place integrates seamlessly with the PoE IT setup.
The luminaires provide much more than simply illuminated office space—they are a portal to data, energy savings, sustainability, and personal comfort. Outfitted with sensors and connected to the base building's IT network, each light fixture is uniquely identified by an IP address, allowing it to be individually monitored, managed, and controlled. Building managers can mine data pertaining to workspaces captured by the sensors in the luminaires to optimize building performance. Employees also can achieve maximum comfort by controlling their lighting environment.
With this transformational advancement, skill sets for the consulting and contracting community are being enhanced. The requirement for IT and security knowledge is also accelerating development of new educational programs and career opportunities.

Control the content you see on ConstructionCanada.net!
Learn More.