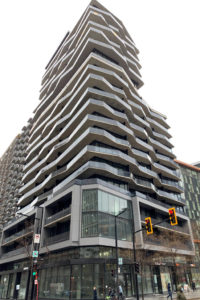 Sonder Maisonneuve, a high-end extended stay hotel located in downtown Montreal, is designed to prevent thermal bridging, and reduce condensation, especially in challenging areas such as the connection points between the building's continuous balconies and window walls.
While visually striking, the 2,788 m2 (30,000 sf) of balconies and 1,600 linear m (5,248 ft) of window walls posed a risk of thermal bridging, particularly where the concrete floor slabs penetrate the insulated building envelope. With relative humidity (RH) of 40-50 per cent typical for occupant comfort, the design team was concerned not only about thermal bridging causing heat loss, but also condensation forming in chilled interior cavities adjacent to the balcony connections, leading to mould growth.
The installation of 1,590 concrete-to-concrete thermal breaks went smoothly, and they were effective in reducing condensation. The thermal break module's expanded foam block is approximately 98 per cent less conductive than concrete, while the stainless-steel rebar penetrating it is approximately one-third as conductive as carbon steel rebar, reducing heat loss at balcony penetrations by up to 90 per cent.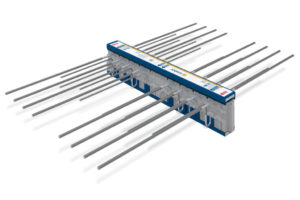 The exterior walls were insulated with 9 cm (3.5 in.) of sprayed polyurethane. The double-glazed window walls were positioned at the interface of the thermal breaks above and below each balcony after the concrete was cured. Electric baseboard heaters were installed near the window walls to further limit condensation and provide extra heat on the coldest days.
The hotel's sustainability efforts were initiated ahead of the National Energy Code of Canada for Buildings (NECB) 2015 and Montreal's carbon-neutrality plan for 2050. These measures included using advanced technologies, including hydronic boilers for mechanical/electrical efficiencies, and giving 96 per cent efficiency for central domestic hot water distribution throughout the building. Further, energy recovery air exchangers for fresh air, and high-efficiency variable refrigerant volume heat pumps for heating and cooling installed on the roof were also used in the project.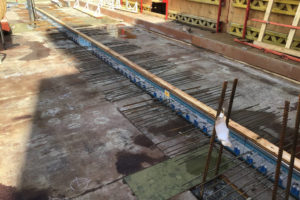 Sonder Maisonneuve is operated by Sonder, a global hospitality company which focuses on providing exceptional stays while maintaining sustainability. The hotel was designed and constructed with a strong emphasis on energy efficiency and reducing environmental impact.
The design team for 1500 Maisonneuve comprised Le Groupe Architex, Pomerleau Construction, L2C Structural Engineers, and Desjardins Experts Conseils. The building is owned by Prime Properties, a property management company owned by the international firm, Rumpf.