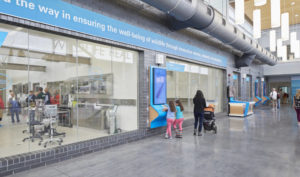 The Toronto Zoo has enhanced its offerings for both animals and visitors with the opening of a new Wildlife Health Centre. Intended to improve awareness of animal health and conservation, the two-storey infill features picture window—Windows of Wildlife science (WOWS) Public Viewing Gallery—allowing a visual connection between visitors and the animals being treated.
From a front-of-house viewing gallery, zoo visitors can view diagnostic imaging, treatment, surgery, clinical lab, and endocrinology lab spaces. Displays corresponding to each space are located beside the windows.
"We are very excited and proud to be able to provide our guests with the opportunity to see firsthand some of this great work that has historically taken place behind the scenes," said Chris Dutton, the zoo's head of veterinary services.
The viewing gallery was not the only place views were prioritized. The centre also incorporates clerestorey windows to ensure daylight reaches its patients, and offers access to an outdoor pen. Second-floor labs and administrative rooms also have visibility of ground-floor treatment areas. Sustainability is also a focus, with a vegetated roof, insulated foundation walls, low-flow fixtures, light-emitting diode (LED) lighting, and heat recovery systems.
The facility as a whole is designed to be responsive to the widely varying needs of the more than 460 species that could come through for treatment. For instance, it features a rail and hoist system mounted on the ceiling, to be used to manoeuvre heavier patients. Other special requirements are considered as well.
"The animal care areas require 100 per cent fresh air supply with no return air so as not to circulate contaminants through ventilation," said Jon Soules, principal with Diamond Schmitt Architects, which designed the facility in partnership with DesignLevel.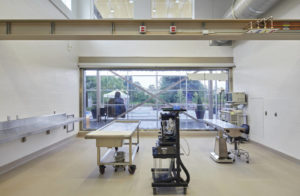 A ventilation system capable of handling this high load was selected for the facility, with particular focus on providing high air change and filtration rates for surgical and treatment spaces. Any materials and finishes used for the space were selected with an eye to durability and hygiene.
Prior to the centre's construction, medical interventions often had to be performed in animal holding areas. The new facility features not only holding space, but also:
a surgical suite;
a radiology and intensive care unit (ICU);
clinical endocrinology;
gamete, assay, and necropsy labs;
offices;
a receiving area; and
a conference room.
"Creating a state-of-the-art animal healthcare facility is at the heart of our expanded vision and will position the Toronto Zoo as a world leader in wildlife care and conservation," said John Tracogna, the zoo's CEO.