Adaptive reuse for commercial buildings
by Elaina Adams | September 1, 2011 2:19 pm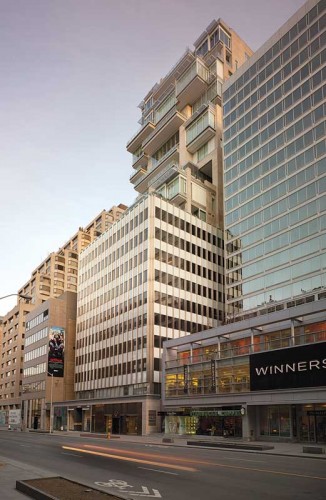 By Brian Curtner, AA, DIP., OAA, AAA, NSAA, MAA, SAA, FRAIC, Associate AIA
Inspired by innovation, tradition, and evolution, adaptive reuse is a sustainable solution for intensification that provides creative and commercial building opportunities. Canada's building stock has undiscovered potential. By reusing buildings that might otherwise be sent to the landfill, the urban fabric is enhanced, history is preserved, and neighbourhoods are infused with new life.
By definition, adaptive reuse is the process of changing a building's primary function and repurposing it, making what was old new again. Successful projects are born from a deep analysis of the existing building and a clear understanding of what it takes to transform older architecture into an inspired environment. Akin to the art of listening, giving new life to an old building must start by understanding its soul. Great projects start with 'good bones'—meaning a solid structure that can be adapted and given life and intention.
Careful evaluation of existing framework can uncover unseen possibilities (and problems), unveil potential, and give the project a new program that exists in harmony with the original shell. The essence of the old is interwoven with the new, resulting in a building that is rich in culture and context.
Building sustainable communities
Conversion projects contribute to organic change in the urban fabric, focusing on previously developed areas rather then depleting the ever-shrinking inventory of greenfield sites. By building on previously developed sites, society is better able to preserve the ecological lands for habitat regeneration, food production, or pure enjoyment.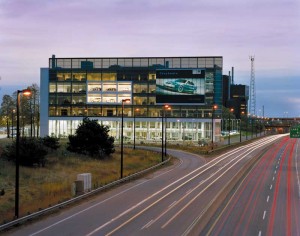 Retrofitting older buildings in existing neighbourhoods creates new parameters for existing structures, supporting intensification in areas that have existing amenities, and strong transit and pedestrian access. Repurposing buildings also energizes communities and builds pride. Neighbourhoods increase in density and buildings that are loved and valued by the community are given a second chance.
"The idea is to engage the community in its own future, looking to the needs of generations to come, by creating a community that is resilient to change," says Michelle Xuereb, sustainability strategist at Quadrangle Architects. "This can be accomplished by studying, understanding, and working in harmony with the existing infrastructure of the site."
Smart growth of this kind maintains the integrity of the neighbourhood, making small incremental changes, resulting in holistic growth and stronger communities.
Materials, diversion, and durability
Inherently green, adaptive reuse projects avoid wholesale demolition. The 2009 LEED Canada Reference Guide for Green Building Design and Construction, developed by the Canada Green Building Council (CaGBC), indicates 12 per cent of the country's solid waste stream in Canada comes from construction and demolition. The guide states: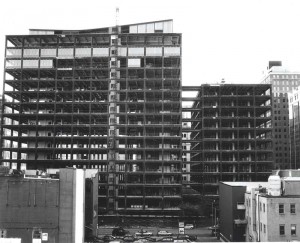 Building reuse is a very effective strategy for reducing the overall environmental impact of construction. Reusing existing buildings significantly reduces the energy use associated with the demolition process as well as construction waste. Reuse strategies also reduce environmental impacts associated with raw material extraction, manufacturing, and transportation […] Reuse of existing buildings, versus building new structures is one of the most effective strategies for minimizing environmental impacts.
The sustainability of a building lies in the durability of its structure. Older facilities, assembled through traditional construction methods, are commonly built with simple materials and detailing. Traditional buildings tend to be built with natural lighting and ventilation in mind, with a low-tech passive design approach that places less reliance on mechanical and electrical solutions.
"Well-maintained buildings built with traditional building technologies have an indefinite lifespan," said Michael McClelland, principal at ERA Architects. "They can last a very long time."
Although a building has outgrown its purpose, it should not be seen as obsolete, but considered for the value found in its external structure, as a solid skin adaptable for another life.
Opportunities and challenges
Success in commerce and business has a direct correlation to place and location. Older structures tend to be centrally located in areas that have high visibility, transit, and general urban infrastructure. The suitability of these locations contributes to a project's success, whether the new use is residential or commercial. Urban areas undergoing planned intensification are generally well served, preventing the need for expanding roads and utility services and contributing to higher efficiency of public works.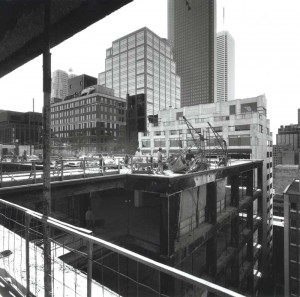 From the architect's perspective, working with existing buildings can provide a wealth of opportunity. An ideal shell, older buildings are large in scale with expansive floor plates, high ceilings, and brick and beam construction. Developers have an opportunity to take advantage of architectural features and construction techniques no longer financially viable in modern building. Often, faster approvals, flexible zoning, and heritage bonusing incentives are possible due to the 'feel-good' aspect of retaining the urban fabric.
Not without its own set of challenges, adaptation of older architecture can be complex during planning and construction. Structural and acoustical challenges arise, environmental remediation may be required, and conflicting layouts from the existing and proposed use frequently surface. With rising energy costs, upgrades to the building envelope and mechanical systems are inevitably necessary to meet current standards. The challenge is to combine technical expertise with design excellence, maximizing ongoing energy savings while maintaining the building's integrity.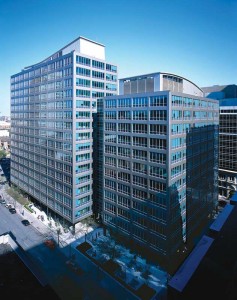 During the feasibility stage, there are many unknowns and precise planning is difficult. Work during initial stages can be costly compared to new development. These expenses are often recovered in later stages from savings gained by reusing the original structure. The LEED Canada Reference Guide states:
Although retrofitting an existing building to accommodate new programmatic and LEED requirements can add to the complexity of design and construction—reflected in the projects soft costs—reuse of the existing components can reduce the cost of construction substantially.
Precedents and practice
A closer look at the planning, development, and construction of six successful conversions will further explore the challenges and opportunities inherent in adaptive reuse. All examples of thriving commercial success after their conversions, these projects set precedents and demonstrate the creative and commercial opportunities that adapting older buildings offer.
BMW Toronto
Quadrangle was commissioned to design a flagship showroom for BMW Toronto that was a physical embodiment of the brand. Adapting the 1970s Lever Brothers Soap Factory office building offered a unique opportunity because of flexible zoning requirements.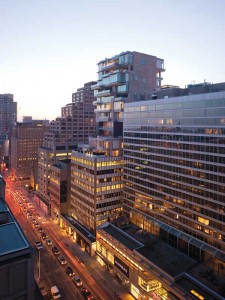 Existing on a 3.6-ha (9-acre) industrial site at the junction of two major north/south and east/west downtown routes, the building was dismantled down to its structural frame and reinforced to meet modern earthquake standards. By reusing and reinforcing the existing structure, the new building was able to maintain a close relationship to the Don Valley Parkway—the north/south artery in the city's road system. Current zoning requirements would have required the building to be set back a significant distance from the highway had the project been new construction.
Reprogrammed, the new building accommodates 5000 m2
(53,820 sf) for sales and administration over six floors, and 5000 m2 for parts and service in a new two-storey structure south of the retained building.
Incorporating a billboard into the design, and strategically glazing the building on three sides at such a close proximity to the highway, transformed the building into a physical advertisement for the brand. The showroom became a life-size display for the latest BMW offerings on the market.
State Street Financial Centre
Quadrangle's redesign of the State Street Financial Centre, in Toronto's business district, respects the landmark building's 1960s-era modernist design. The building was updated to meet the needs of the 21st century while giving special consideration to the requirements of new technology firms.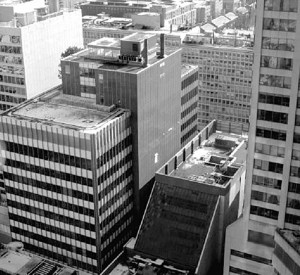 The building was vacant during the retrofit, and its building systems were gutted and later reintroduced, allowing the building to be reconfigured with an incredible degree of efficiency. Strategic design moves included reducing the mechanical system's spatial requirements to allow the reclamation of valuable floor space. Office floors were divided into smaller zones with local thermal adjustability, allowing occupants to have direct control over their environment.
Mechanical infrastructure was kept to the centre of the plan, expanding gross floor area, resulting in greater tenant flexibility. The existing structural system was also retained, allowing a significant reduction in the quantity of materials needed for demolition and fabrication. Raising the ceilings at the perimeter allowed daylight to penetrate deep into the building.
As the original building was less then 50 years old, this successful transformation is a key example of how adaptive reuse can be a smart tactic for projects of any age.
130 Bloor Street West
The most complex in adaptive reuse projects was 130 Bloor Street West in Toronto, demonstrating the sky is the limit when creative problem solving is applied to a unique and challenging site.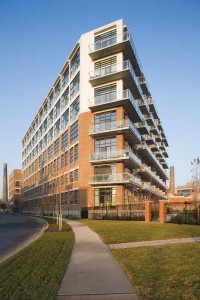 The restoration and expansion of the 1960s office building included:
a two-storey heritage-listed penthouse;
the addition of 15 luxury condominium apartments atop 12,000 m2 (129,167 sf) of office space; and
2000 m2 (21,528 sf) of high-end retail space at street level.
The design of the complex project preserved the heritage penthouse while adding seven floors of new penthouses above, and two floors below, the original roofline. Extensive renovations took place on the office floors; existing underground parking was reconfigured to be shared by commercial and residential tenants.
During construction, the offices and retail area below remained completely operational. The project's complexity was similar to performing 'structural gymnastics.' It was challenging, to say the least—akin to performing open-heart surgery while the patient is awake. Adding a new building above an existing one, while keeping the building operational and the people working in it safe, was a challenge that required a lot of creativity.
Reinforcing the existing structure to meet new seismic requirements and the additional loads of the new floors involved structural interventions going into at least four areas on each floor to add steel plates and cross-bracing. The phased program impacted existing leases and involved multiple temporary relocation of staff, services, and fire exits to allow for the expansion above.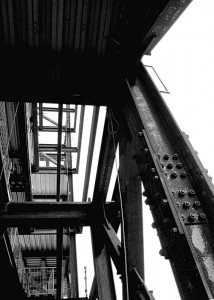 A clear understanding of the Ontario Building Code (OBC) was needed to define which code requirements should be upgraded and which could remain as a grandfathered condition. This took precedence to ensure safety was never compromised and fire alarm devices were maintained operational, and exits were kept clear.
A comparative look at State Street Financial Centre and 130 Bloor West projects demonstrates how specific factors can dramatically affect a project's complexity and timing. Both involved buildings of a similar age, located in a tight downtown core with a small staging area to store materials. However, the degree of difficulty is multiplied exponentially when the building remains occupied throughout construction.
Toy Factory Lofts
The conversion of the Irwin Toy Factory, located in Toronto's Liberty Village neighbourhood, was a catalyst for the transformation of the heavily industrialized area. Revitalization of the existing site and 26,000-m2 (279,862-sf) building provided 215 live/work units and 4000 m2 (43,056 sf) of commercial space in the neighbourhood. Focused on the public realm, the site functions as a physical gateway to Liberty Village and strengthens newly created streets.
The building was constructed at the turn of the century, and its existing Douglas fir beams, wood ceilings, exposed brick, and massive windows were modernized and integrated into the design, creating new iconic spaces. Focused on preservation, structural and historic features operate as focal points of the architecture.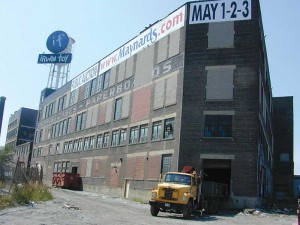 In various states of disrepair, with parts of the building structurally unsound, the challenging conversion required an intensive redevelopment strategy. On an early site visit, it was discovered that the steel structure was so corrugated it could be penetrated by a human fist. A strategic combination of demolition, reconstruction, renovation, and addition was employed to maximize the site.
The award-winning design was named the 2005 Condominium Project of the Year by the Greater Toronto Home Builders' Association and was honoured in 2009 with a Toronto Urban Design Award for Mid-rise Private Building in Context. At the time of construction, the project was the largest loft conversion ever undertaken in Toronto.
Candy Factory Lofts
Toronto's first true loft conversion was the transformation of Queen Street West's Candy Factory—originally the headquarters for Ce De Candy Co Ltd., manufacturer of the popular Rockets. Heavy timber walls, 3.9-m (13-ft) ceilings, and the historic façade evoke memories of the building's industrial past. Mill and plank construction and large windows meant the building lent itself naturally to conversion for dwelling units and live/work spaces.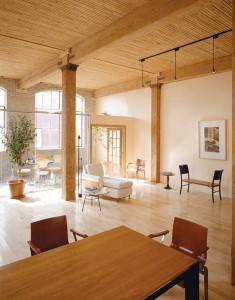 The former five-storey factory was converted into 120 residential lofts with amenity spaces. Key challenges involved specialty acoustical treatments to reduce street noise and reconstructing the original basement to accommodate two parking levels.
Similar to the Toy Factory, the project tailors a footprint from the past and creates an industrial/luxury hybrid in an urban neighbourhood ripe for intensification. The renovation translates the building's expansive spaces into flexible volumes of light that are filled with character.
Rogers at Yonge-Dundas Square
New buildings with a short history are also well suited to adaptive reuse. Quadrangle was retained to create a vibrant headquarter for the Citytv, OMNI, and Diversity television stations on a site overlooking Yonge-Dundas square in the heart of Toronto. The five-storey building's original purpose was to promote the city's bid for the 2008 Olympic Games. It was adapted into new facilities for television production and broadcasting.
Production and programming environments were created and new mechanical systems designed to respond to the unique requirements of broadcasting were integrated into the building. Small for the needs of broadcasting, original floor plates were increased by 20 per cent through the rationalization of interior spaces and removal of unneeded staircases and elevators. Challenges included the co-ordination of heating and air-conditioning duct runs, sprinkler lines, lighting grids, electrical distribution, broadcast, data, and telephone cabling, and other services through an existing building designed for a different use, while ensuring acoustical integrity, camera shooting angles, and operational demands.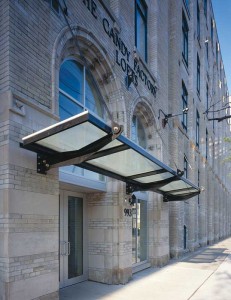 Active programming can be seen by the public on the ground and second floors, while dramatic views of the city for on-air shots by the television stations are visible from the third and fourth floors. The conversion engages the public square with floor to ceiling glazing and new high-definition screens that captivate attention in the adjacent square.
Learning from the precedents
When considering an adaptive reuse project, certain strategies can be employed to achieve success. New uses often bring new challenges.
Upfront site investigation is critical to establish an accurate understanding of what the building can offer and what the project will require. The highest degree of transparency brings the highest degree of success. Existing arrangements with the building's tenants or leases must be researched, and a careful review of the current building codes as they apply to the existing and adapted uses and site conditions must be explored. If heritage preservation is involved, inside-out knowledge of the requirements is essential.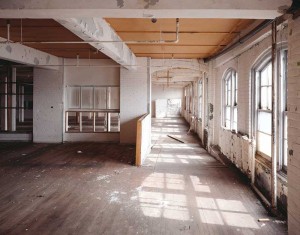 Adaptive reuse projects are complex in nature; therefore, initial planning requires a healthy contingency. Budgeting must consider all factors, including heritage preservation, code upgrades, and the adaptability of existing structures and systems. When selecting the team, retrofit experience is critical for all members, including consultants, contractors, and the client. Often more complex than new construction, adaptive reuse work may require the allocation of additional time to successfully complete the project. As inevitable unforeseen challenges arise, the key to success is flexibility and the ability to respond to new challenges as opportunities.
The most successful projects must explore early on what is really working in the bones and infrastructure of the building, and translate this information into the new purpose. The new design must listen and learn from the old, and work with the existing building rather than against it, calling on the past to create a vision for the future.
Brian Curtner, AA, DIP., OAA, AAA, NSAA, MAA, SAA, FRAIC, Associate AIA, is a principal at Quadrangle Architects Ltd. He holds a diploma from the Architectural Association School of Architecture in London, England, as well as a Royal Institute of British Architects (RIBA) Part II. Curtner has 35 years of experience and is a member of many architectural societies and urban development councils across North America, including the International Council of Shopping Centres (ICSC), the Royal Architectural Institute of Canada (RAIC), and the Lambda Alpha International (LAI) Society. He can be reached via e-mail at bcurtner@quadrangle.ca.
Endnotes:
[Image]: http://www.constructioncanada.net/wp-content/uploads/2016/02/CST_05028-22B.jpg
[Image]: http://www.constructioncanada.net/wp-content/uploads/2016/02/BMW12.jpg
[Image]: http://www.constructioncanada.net/wp-content/uploads/2016/02/CST_99038-23B.jpg
[Image]: http://www.constructioncanada.net/wp-content/uploads/2016/02/CST_99038-25B.jpg
[Image]: http://www.constructioncanada.net/wp-content/uploads/2016/02/CST_99038-02B.jpg
[Image]: http://www.constructioncanada.net/wp-content/uploads/2016/02/CST_05028-17B.jpg
[Image]: http://www.constructioncanada.net/wp-content/uploads/2016/02/CST_130-Bloor-BEFORE.jpg
[Image]: http://www.constructioncanada.net/wp-content/uploads/2016/02/CST_03036-01B.jpg
[Image]: http://www.constructioncanada.net/wp-content/uploads/2016/02/CST_1C.jpg
[Image]: http://www.constructioncanada.net/wp-content/uploads/2016/02/CST_08.jpg
[Image]: http://www.constructioncanada.net/wp-content/uploads/2016/02/CST_95026-01B.jpg
[Image]: http://www.constructioncanada.net/wp-content/uploads/2016/02/CST_95026-05B.jpg
[Image]: http://www.constructioncanada.net/wp-content/uploads/2016/02/CST_95026-02B.jpg
Source URL: https://www.constructioncanada.net/adaptive-reuse-for-commercial-buildings/
---