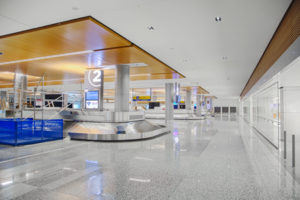 Acoustic control and performance continue to influence the design of municipal, university, school, and hospital (MUSH) facilities across Canada. While buildings' needs vary from project to project, depending on occupant activity, they all have one thing in common—the need for acoustically balanced spaces. Reducing excessive noise and sound reverberation in education settings decreases distractions by increasing vocal clarity and reducing reverberation. It also reduces vocal strain for teachers and professors. For health care environments, enhanced acoustics play an important role in supporting safety, healing, and well-being for all occupants, including employees, patients, and visitors. In municipal buildings, sound acoustics contribute to happier, more productive employees.
In order to enhance speech privacy and quell distracting and disruptive background noise, all while creating dynamic, visually stimulating spaces, commercial specifiers working in MUSH sectors have sought out new materials that combine enhanced acoustic performance with unique visuals, ease of installation, and durable construction.
One building material segment that has responded with a wide range of innovations is the commercial ceiling industry. Monolithic large-format metal panels with rich and inviting wood looks, and high-performance specialty products are helping designers create acoustically optimized environments without sacrificing esthetics or durability.
An article in our newest e-book discusses how new acoustic ceiling materials are well-positioned to help create healthy, comfortable, and acoustically sound buildings. It appears along with two other articles on institutional architecture in "Designing MUSH Facilities," a free, downloadable resource. To get your copy in either pdf or digital edition, visit www.constructioncanada.net/ebook/designing-mush-facilities-de.