A new mixed-use development shines in Calgary
December 23, 2014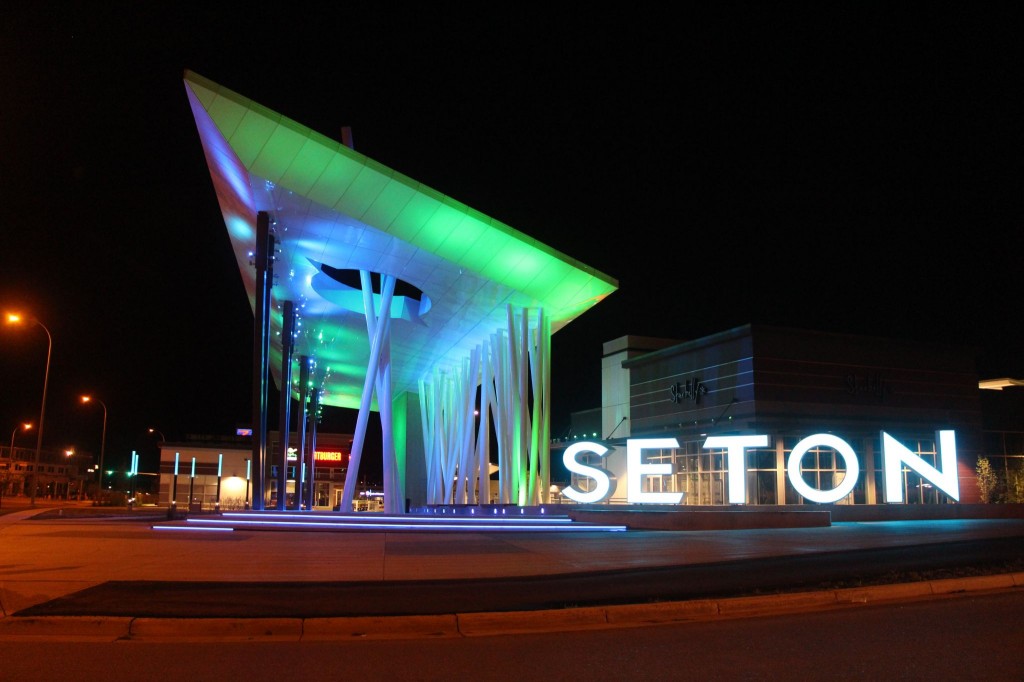 The recently unveiled mixed-use Seton Urban District development project in Calgary features unique light-emitting diode (LED) assemblies, and the first renewable energy system of its kind in the city.
Developed by Brookfield Residential, the 120-ha (300-acre) site is set to grow over the next 10 to 15 years. The features of the mixed-use site, all serviced by Calgary's light-rail transit (LRT) system, include:
● more than 232,257 m2 (2.5 million sf) of office and retail space;
● 6.5-ha (16-acre) regional park;
● public high schools;
● 1300 multi-family residences;
● regional recreation centre;
● multiplex theatre; and
● hotel.
A major feature of the project's first phase is the decorative LED lighting. The lights are installed throughout the site, and are programmable to change colour and speed for special events.
Coloured kinetic lights are used to illuminate plinths, poles, ceilings, and roofs, as well as part of architectural art features. Linear lights line the district's walkways, and five 12-m (40-ft) tall wayfinding lights work with softer, bioswale lights are placed along bike paths and vegetation. Controlled from a panel, the lights are automatically adjusted depending on the time of day and plans for special events or the change in season.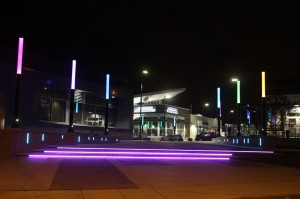 The project team wanted to get rid of high-intensity discharge (HID) lights and increase illumination performance and energy efficiency with LEDs. The lights specified for the buildings and pole-mount luminaires are 4000K LEDs, which produce a 'cool white' colour. Energy consumption was reduced by limiting input watts to 65 per cent.
The onsite renewable energy system employs solar photovoltaic (SPV) panels and bidirectional metering. The largest solar panel system in Calgary, the assembly is composed of 252 panels that are 990 x 1651 mm (39 x 65 in.), and powers the parking lot's lighting system. The total area is 468 m2 (5040 sf), and the energy produced during the day is also transmitted to the main power grid where the meter reverses the flow of electricity and uses the same amount of power that was produced to light the parking lot at night. As a result, the parking lot's light system is self-sufficient and generates no operating costs.
On average, 59.9 kilowatt hours (kWh)—enough power to illuminate the 9.7-acre (3.9-ha) parking lot—are produced daily. The expected lifecycle of the assembly is 25 years. Seton Urban District's parking lot and ground lighting system is being considered for an Illumination Engineering Society of North America (IESNA) Award.
Endnotes:
[Image]: http://www.constructioncanada.net/wp-content/uploads/2014/12/Seton-Pavillion.jpg
[Image]: http://www.constructioncanada.net/wp-content/uploads/2014/12/Seton-Candlesticks.jpg
Source URL: https://www.constructioncanada.net/a-new-mixed-use-development-shines-in-calgary/
---