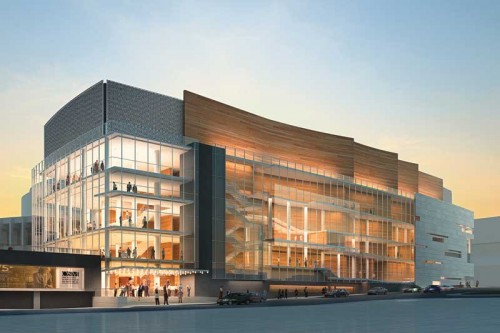 This past September, the Montréal Symphony Orchestra (OSM) started its season in a new 2100-seat concert hall. With three balconies and audience seating that wraps around the stage, the auditorium is a 'box-within-a-box,' structurally separated from everything around it.
Designed by Diamond + Schmitt Architects and Aedifica Architects, Montréal's 19,187-m2 (206,500-sf) La Maison Symphonique is situated at the northeast corner of the city's downtown art complex, Place des Arts. Commissioned by the Government of Québec as a public-private partnership (P3) with SNC-Lavalin (through its subsidiary firm, Groupe immobilier Ovation), this is the first P3 project in the province's cultural sphere.
While the building's tall, narrow proportions are similar to the classic 'shoebox' design, it is shaped with carefully optimized curved walls and balconies that direct and spread sound to the audience. This form is carried through to the outside of the hall, visible from the lobbies and the exterior where the curved wooden form of the hall rises above the roofline.
The top of the room is crowned by large, multi-part suspended sound reflectors that are motorized and adjustable. Setting the ceiling low allows the room to sound like a smaller hall, more suitable for early music and chamber music. Moving it higher creates greater reverberance and a sense of a grand space that better fits full orchestral works. There are also settings in between to vary the balance of clarity and resonance.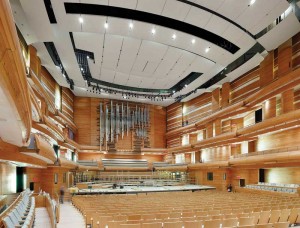 Wood and plaster are used throughout the facility and are fully bonded to the masonry with specially selected soft glue and a high density of nails to preserve the bass sound energy in the room and achieve a warm resonance. There is extensive use of wood trim and covers on the walls, balcony fronts, floors, seats, and doors, all clad in Forest Stewardship Council (FSC)-certified, Québec-sourced beech wood.
Most of the noise control design is not visible to the audience, but is hidden in the walls and the HVAC system. The concert hall rests on 180 rubber pads to isolate it from the subway, the underground parking garage, and adjacent road vibration. The glass areas of the façade are heavier and deeper than domestic windows to keep the traffic noise out of the hall.
Ventilation and plumbing noise is silenced through careful routing of ventilation ducts and pipes, installation of sound traps and insulation, and isolation of equipment on resilient spring and rubber isolation mounts to decouple it from the building structure. Displacement ventilation (DV) provides each seat with its own air supply––this distribution method is specifically designed to generate neither noise nor air movement, minimizing the impact on sound quality.

Control the content you see on ConstructionCanada.net!
Learn More.