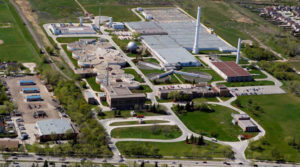 A combined $550 million plus from the Government of Canada, Manitoba, and Winnipeg will help the City of Winnipeg furnish infrastructural upgrades to its major wastewater treatment plant to enable it to convert sludge into biosolids.
The investment will be put into Phase 2 of the upgrade project of the North End Sewage Treatment Plant, also known as the North End Water Pollution Control Centre (NEWPCC). The upgrades will provide new infrastructure to store and treat sludge produced from the treatment of wastewater to convert it into biosolids, a nutrient-rich product which can be safely reused as fertilizer or soil.
Sludge from the City's other two wastewater treatment plants will also be taken to the new facility, in a bid to divert it from the landfill. Further, the improvements will allow the city to take action on removing phosphorus from wastewater, which is harmful to human health and the environment.
The NEWPCC is one of North America's and Winnipeg's oldest and largest sewage facility, processing 70 per cent of the city's wastewater.
In 2021, the City of Winnipeg secured federal and provincial funding for Phase 1 of the project, which involved improvements to the power supply and headworks facilities. The project work was assigned to Aecon and Oscar Renda Contracting of Canada.
The upgrades to the headworks and biosolids facilities are key steps in extending the plant's service life, supporting population and economic growth, and reaching environmental compliance—which will ultimately improve the health of Lake Winnipeg, one of Manitoba's greatest treasures.