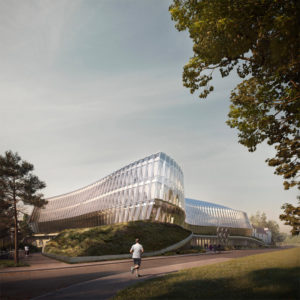 Designed by 3XN, the new headquarters for the International Olympic Committee (IOC), in Lausanne, Switzerland, is now open.
The facility aims to further the mission of international cooperation, transparency, and sustainability and brings all IOC staff under one roof.
Denmark-based firm 3XN was selected to design the project through a multistage, international competition certified by the International Union of Architects (UIA). Following the competition, Swiss architecture firm IttenBrechbühl worked in partnership with 3XN to oversee the construction of the project.
The building's façade pays tribute to the Olympic spirit by emulating the graceful movements of an athlete. 3XN's design prioritizes transparency and flow to facilitate and encourage interaction, communication, and knowledge sharing between the IOC staff while creating a sustainable workspace.
The Unity Staircase, which references the Olympic Rings, soars the full height of the building and connects the five floors through a central atrium.