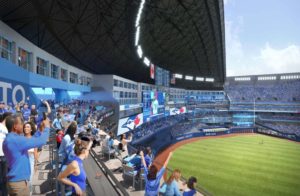 Rogers Centre's $300M renovation design incorporates fan feedback, market research, learnings from the use of Toronto Blue Jays' 26.3-hectare (65-acre) training facility Player Development Complex, and insights from the global design firm Populous for a visitor-focused transformation.
The construction partner for the renovation is PCL Construction. Once completed, the renovation aims to bring the team's fans closer to the action and the players they love, introducing unique social spaces and amenities while upgrading player facilities.
The project will proceed through a series of phases over the coming two-to-three off seasons, all focusing on the interior of the building, including the 100L and 200L outfield, 500L, 100L infield, and field level (the exterior of the building, turf field modification, and roof are not in the current project's scope).
Renovation will focus on the following features in the respective ballpark seating areas in the years 2022-2023:
100 level and 200 level outfield
Creation of multiple new social spaces with patios, drink rails, bars, and viewing platforms
Raised bullpens surrounded by traditional and new bleacher seats, as well as social viewing areas that look into the bullpens to increase fan and player interaction
100L seats brought forward to the new outfield walls to brings fans closer to the game
500 level
Two new social decks in right and left field
Replacing every 500L seat from the originals when the building opened
Field level
Players' family room
465 m2 (5,000 sf) weight room
Staff locker rooms
The following updates will take place from 2022-2024:
100 level infield
Field level premium clubs and social spaces
Clubhouses and player facilities