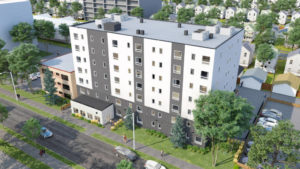 The federal and Manitoba governments, along with the crown corporation Efficiency Manitoba, will jointly invest more than $17.4 million to build affordable apartment units in Winnipeg. The project team also plans to implement energy-saving measures throughout the construction process.
With a strong focus on serving Indigenous students, young families, and elders, the goal of the project is to help address the significant shortage of affordable rental units in the city. Additionally, to maximize its energy efficiency, the building will be part of Efficiency Manitoba's New Buildings Program. The corporation will provide the owner and operator, Opaskwayak Cree Nation, approximately $105,000 in incentives to reduce the costs of incorporating multiple energy-saving measures throughout the construction process.
Primary energy-efficient features proposed for the building include a high-performance building envelope, heat pumps for space heating, and a central heat recovery unit to ventilate the suites. Undertaking these measures will result in anticipated annual electricity savings of nearly 190,000 kilowatt-hours (kWh) and estimated annual bill savings of $9,500.
The seven-storey apartment building, located at 380 Young St., will have 69 units and heated underground parking. It is designed as a mix of affordable living, with over 40 per cent of the rental units being offered at highly discounted rates. Construction is expected to take 18 months and should be completed in summer 2024.
Opaskwayak Cree Nation intends to lease a number of units to First Nations students who have moved off the reserve for post-secondary education, as the building is not only next to the University of Winnipeg, but it is also close to all major bus routes.
"We're pleased to see the addition of this affordable, green housing initiative, giving members of Opaskwayak Cree Nation the opportunity to live, study, and work in the heart of downtown Winnipeg," says Minister of Families Rochelle Squires. "Energy models show this new build's energy performance will be approximately 16 per cent better than what is required by the Manitoba Energy Code for Buildings. We're also eager to see the building receive Efficiency Manitoba's Energy Efficient certification when it's finished."