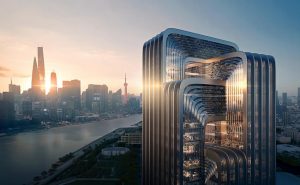 Following an international design competition, Zaha Hadid Architects (ZHA) was selected to build the new Shanghai headquarters of the China Energy Conservation and Environmental Protection Group (CECEP).
The new CECEP headquarters has been designed to be the 'greenest' building in the city with sustainability embedded into every aspect of its design and construction. The project team hopes to achieve more than 90 credits in China's exacting Three Star Green Building Rating system—the highest score for any building in Shanghai.
The 218,000-m2 (2,346,532-sf) headquarters sets new benchmarks for the city in energy conservation, energy efficiency, and sustainability. Located adjacent to the Yangpu Bridge on the Huangpu River, the design responds to its riverfront site and is defined by the history and dynamism of Shanghai.
The headquarters will be a mixed-use urban campus of three office towers, shopping, dining, and leisure facilities linked together by a park.
Incorporating rainwater harvesting to irrigate expansive green spaces and landscaping in a biophilic design that enhances indoor-outdoor connectivity, the design also minimizes cooling demand through optimized external shading.
With Shanghai's significant temperature differences between day and night, each building's integrated thermal mass also provides reductions in both heating and cooling consumption. Extensive use of locally produced, prefabricated components will reduce the project's embodied carbon and also support the local economy while procurement will prioritize the use of recycled materials.
Photovoltaics (PV) located at roof level and within the façades are connected to battery storage and a micro-grid to provide onsite energy production that will reduce energy consumption by 25 per cent.
In addition to high-efficiency heating and ventilation with waste heat recovery, together with cooling systems using non-potable water, the new headquarters will also use thermal ice storage for cooling. Ice generated by chillers at night using off-peak electricity is stored in thermal tanks and then used for cooling during the day to reduce peak daytime electrical consumption when the cooling load is highest.
The building management system will continually monitor the interior environment and automatically react to changes in internal conditions, such as variations in temperature, air quality, natural daylight, or number of occupants. To reduce energy consumption and prolong their lifespan, these intelligent systems will collate data to predict and optimize energy use.
The new headquarters will use 5G network capability to operate intelligent management and biometric security systems that will eliminate contact with communal surfaces by staff and visitors.