YorkU to implement sustainable products in restroom retrofits
by brittney_cutler_2 | July 12, 2022 4:58 pm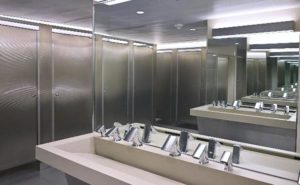 York University (YorkU) has mapped out an initiative to renovate more than 785 public-use restrooms throughout the campus, with the help of Zeidler Architecture and Quasar Consulting Group.
The goal of this project is to maintain consistency and simplify maintenance for each restroom.
To accomplish this, the university used solar-powered, deck-mounted faucets with active infrared sensing. Additionally, they sensor solar-powered urinal flushometers and sensor solar-powered dual flush water closet flushometers, which also operate via infrared sensor and automatically initiate 4.2 or 7.3 L (1.1 or 1.6 gal) per flush, based on how long the user remains in sensor range. Some new restrooms at YorkU also feature new sinks, which help save water, reduce energy consumption, and eliminate the need for paper towels.
YorkU has made sustainability a priority, with restrooms playing a key role. The flushometers and faucets also use Bluetooth connectivity and advanced technology to wirelessly monitor the health and status of the products and spot potential issues before they happen.
Endnotes:
[Image]: https://www.constructioncanada.net/wp-content/uploads/2022/07/BC_YorkUniversity.jpg
Source URL: https://www.constructioncanada.net/york-university-to-implement-sustainable-products-in-restroom-retrofits/
---