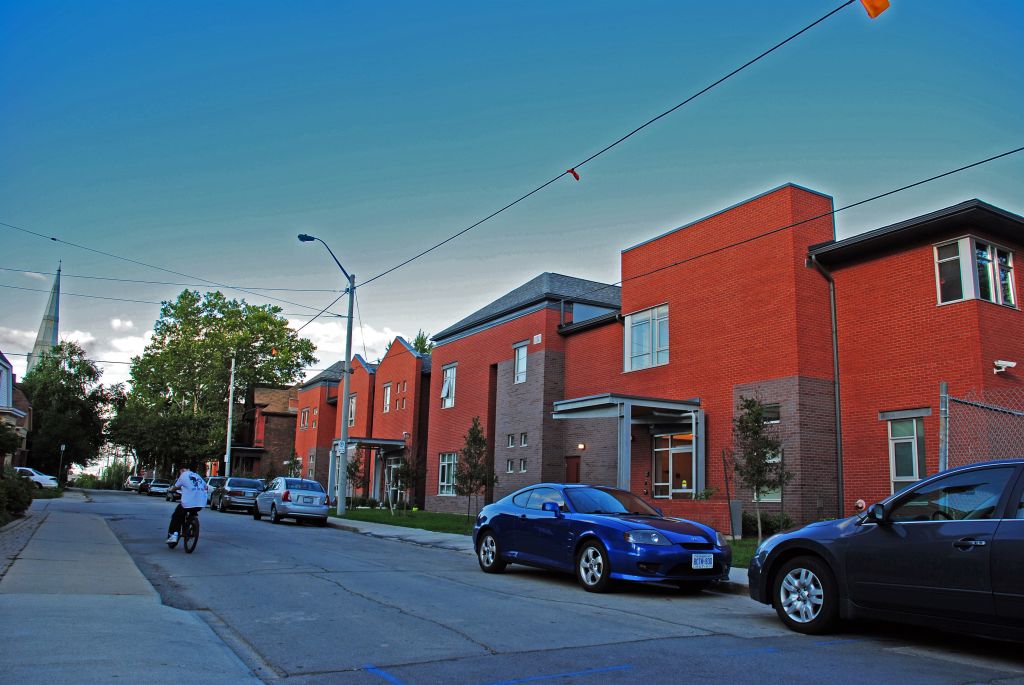 An adjoining pair of women's shelter facilities in Hamilton was designed using hospitality—rather than institutional—models, blending in with the community and providing a safe space for residents.
Designed by local firm, TCA/Thier+Curran Architects, the $10.9-million, two-storey, 4738-m2 (51,000-sf) Good Shepherd Women's Services Centre combines Martha House—a 40-bed shelter for victims of domestic violence and their children—and Mary's Place—a 20-bed facility for women with mental health or addition issues. Although the two shelter components are separate, they share some common and support space for construction, staff, and operational efficiencies.
The project was designed to blend into a mature residential street of Victorian homes, with the shelter's understated street façade modulated into five unique, house-like elements having the familiar form, rhythm, and texture reflecting a series of Victorians.
A key design element is rather than typical hostel-style bedroom units with shared washrooms found in many shelters, this facility includes full apartment-style units with private bathrooms, kitchens, and living space, providing increased privacy for residents. Overall, the building evokes the feeling of a small hotel, rather than an institutional facility.

The building is focused inward on an enclosed outdoor garden courtyard and 'safe space.' Covered porches provide shade and shelter for residents using the outside area. Further, separate enclosed gardens outside the building provide a dedicated children's play area.
The building's interior also provides common space between the two shelter units and includes:
two-storey atria with extensive glazing for natural daylighting;
lounges overlooking the atria;
grand, residential-scale wood stairways in the atria;
various shared common rooms for events;
a shared commercial kitchen serving both shelters; and
small chapel or meditation space.
Natural materials—such as wood, stone, and glass—were used through the interior to 'de-institutionalize' the shelter's design. There is much exterior and interior glazing to bring in a generous amount of daylight. The exterior is clad in red, handmade clay brick and asphalt shingle.
Barrier-free access is another key design element. Some bedrooms are located on the ground floor for residents with mobility issues.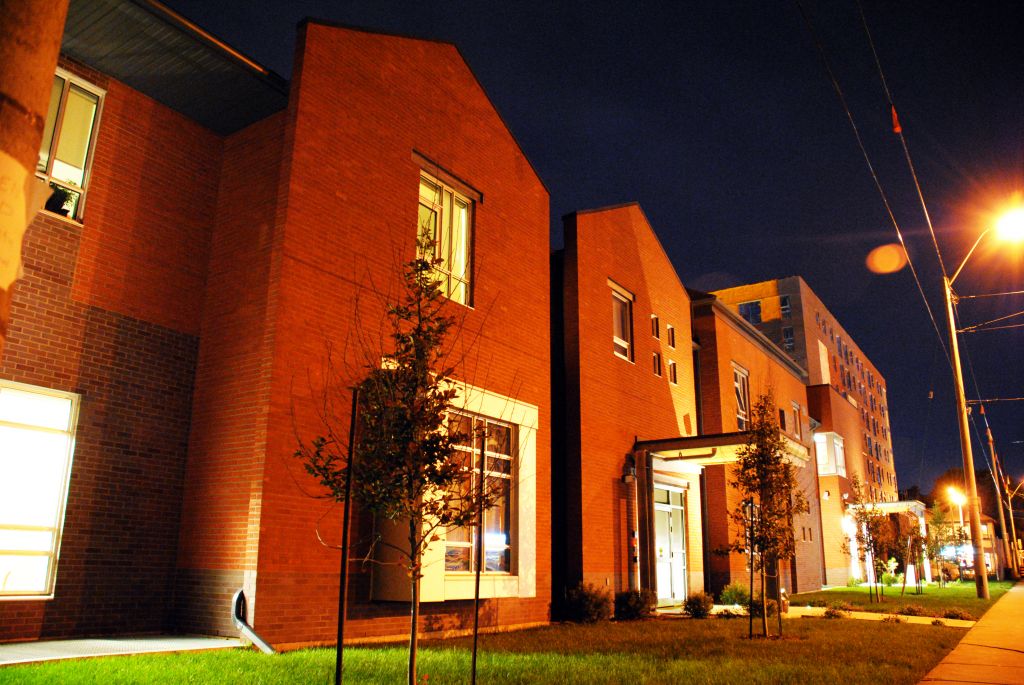 The Women's Services Centre is part of the overarching, four-building Good Shepherd Square development—a significant urban infill project on the edge of Hamilton's downtown. In addition to Martha House and Mary's Place, an eight-storey senior's apartment building and separate eight-storey family apartment structure are included. Transitioning the infill project to the rest of the community will be a three-storey apartment building.
This infill project is the largest the city has seen since the 1970s and was designed around a group of century-old trees retained and transformed into a community-accessible park at the centre of the development. Although the original plans were met with some resistance from neighbourhood residents, the overall design and its successful integration onto the residential street has been accepted.

Control the content you see on ConstructionCanada.net!
Learn More.